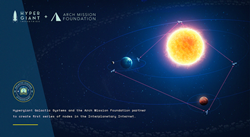 AUSTIN, Texas (PRWEB) March 09, 2019
Hypergiant Galactic Systems and Arch Mission today announced a partnership to launch a series of satellites to Lagrangian orbital locations around the solar system, that will serve as the first relay points in the Interplanetary Internet (IPN).
The first relay satellite of the network, a U-class spacecraft (a "cubesat", or miniature satellite) will be delivered in a planned late 2020 launch, and will contain the Arch Mission Foundation's first Lagrange Library -- a backup of planet Earth. A subsequent launch is planned for mid-2021, and then further nodes will be sent to locations around the solar system on an ongoing basis.
The Lagrange Library is part of Arch Mission's Billion Year Archive project, a solar system-wide network of big data archives that can preserve, connect, and share humanity's knowledge around the Solar System. It is a superset of all libraries the Foundation has created to-date and forms the backbone of a planned solar system-wide Internet capable of serving the information needs of future colonies on the Moon and Mars.
The first satellite will utilize Hypergiant's new Smart Satellite Platform, which is an AI-driven satellite operating system that facilitates autonomous navigation and decision-making in orbit. In order for a true Interplanetary Internet to take shape, satellites at multiple Lagrangian points need to autonomously locate other nodes around the solar system, in real-time, in order to relay data streams efficiently on the shortest paths to chosen destinations.
The first node in this new Interplanetary Internet is a proof-of-concept, using the Arch Mission Billion Year Archive as a test dataset, to send and dynamically update big data from Earth, and also return the data when needed. With the addition of more nodes in other Lagrangian locations around the solar system in the future, these datasets will be able to be stored, forwarded, and synchronized across the Solar System.
The first Hypergiant node will include Hypergiant's AI operating system, blockchain-powered data synchronization, and contain special sensors and cameras that allow it to scan the space environment for undetected asteroids that may pose a threat to Earth or other space missions, as well as to survey and track debris at the chosen Lagrangian point. This is important for planetary defense as well as for the maintenance of the interplanetary internet.
In October 2018, Drs. Ahmad Alhilal, Tristan Braud, and Pan Hui at The Hong Kong University of Science and Technology and University of Helsinki published a paper titled "The Sky is NOT the Limit Anymore: Future Architecture of the Interplanetary Internet," providing a peer-reviewed roadmap for building an IPN, which will be developed and tested by Hypergiant Galactic Systems and other partners. NASA has also conducted and published a significant amount of research on Disruption Tolerant Networking in deep space.
"It's time to move beyond the research phase and actually start testing this in the real world," said Ben Lamm, CEO and co-founder of Hypergiant Industries. "We're going to begin to test and roll-out a commercial-grade Interplanetary Internet, an essential enabling infrastructure for all future space activity. We are increasing the speed at which humanity will become an interplanetary species and we need the infrastructure to support it. The mission of Hypergiant Galactic Systems is to bring the power of artificial intelligence to the space industry. The AI platform we are building is a best-in-class system for autonomous satellite deployment, navigation, communication, and sensing."
As a part of this announcement, Hypergiant Industries is also announcing that General Lance W. Lord, retired four-star Air Force General and Commander of the Air Force Space Command at Peterson Air Force Base in Colorado, has joined the company's Executive Advisory Board. During his role as Commander of the Air Force Space Command, the general oversaw a global network of satellite command and control, communications, missile warning and launch facilities, and led more than 39,700 space professionals providing combat forces and capabilities to North American Aerospace Defense Command and U.S. Strategic Command.
During his illustrious career, General Lord has directed the Ground-Launched Cruise Missile Program Management Office in Europe, served as a Military Assistant to the Director of Net Assessment in the Office of the Secretary of Defense and represented the Air Force as a research associate in international security affairs at Ohio State University. He has been awarded a Master Space Operations Badge, an Air Force Distinguished Service Medal, and an Office of the Secretary of Defense Identification Badge, in addition to many other distinctions.
"Much of the work on satellite communications to-date has focused on Earth-to-space and space-to-Earth capabilities," said General Lord. "But a big missing piece is space-to-space communications. We need a high-bandwidth interplanetary Internet capability to support future commercial and scientific activities around the solar system, and in particular, to support the data and communications needs of future colonies on the Moon and Mars."
The announcement of the Lagrange Library follows the launch of the Arch Mission Foundation's first installment of the Lunar Library aboard SpaceIL's Beresheet lunar lander last month, which is scheduled to land on the Moon's surface in April.
Among the 30 million-page contents of the Lunar Library are the entire English version of the Wikipedia, more than 25,000 books and other resources, including collections from Project Gutenberg and the Internet Archive, and the Long Now Foundation Rosetta and PanLex datasets, which provide a linguistic key to 5000 languages with 1.5 billion cross-language translations.
"We are excited to continue expanding the Billion Year Archive with the addition of the Lagrange Library," said Nova Spivack, co-founder of the Arch Mission Foundation. "Our partnership with Hypergiant and their smart satellite platform in particular allows us to send updates continuously from Earth, and also for that data to be retrievable from Earth in the case of a cataclysmic event. By placing these backups in Lagrangian points, they can remain forever and easily be discovered in the future. With Hypergiant, we are developing AI that can intelligently communicate the knowledge on these satellites back to Earth if it is ever needed."
About Hypergiant Galactic Systems
Hypergiant Galactic Systems is a revolutionary orbital systems and constellations enterprise that combines artificial intelligence with proprietary hardware and the latest advancements in space access. Focused on evolving international commerce with more accessible and affordable space missions, Hypergiant Galactic Systems identifies, invests in, and acquires celestial technologies that can be integrated with and enhanced by machine intelligence.
Currently, Hypergiant Galactic Systems operates Hypergiant S.E.O.P.s, a satellite launch and deployment company utilizing International Space Station infrastructure to service the CubeSat and MicroSat markets through its proprietary launch hardware and software. Hypergiant Galactic Systems is owned and operated by Hypergiant Industries.
To learn more, visit: http://www.hypergiant.com/divisions/galactic
About Hypergiant Industries
Hypergiant Industries is the AI industrial complex for leading global enterprises and governments. We help major institutions innovate with breakthrough machine intelligence-driven technology. The solutions, products, and companies we create support our customers on their mission to speed beyond norms and realize an exploded potential of the future we were promised.
We push the boundaries of what was previously thought technologically impossible. We meet our customers in the space where impossibility intersects reality. Where light filters out the dark. And machine intelligence makes everything about your business more intelligent.
To learn more, visit: http://www.hypergiant.com
About Arch Mission Foundation
The Arch Mission Foundation designs, builds, delivers, and maintains curated long-term archives that are housed in specially designed devices called Arch Libraries™ (pronounced "Arks"). Arch Libraries are being developed with a variety of form factors to survive for long durations in space, as well as on the surfaces of planets, moons and asteroids.
The Arch Libraries are already the longest-lasting records of human civilization ever created, and possibly that ever will be created. They may last billions of years longer than the Pyramids. They may even last longer than our planet. In the distant future the Arch Libraries may be the only remaining trace of our species and our civilization.
In 2015, Nova Spivack and Nick Slavin co-founded the Arch Mission Foundation as a not-for-profit corporation, and in 2016 the Arch Mission Foundation was formally incorporated and subsequently qualified for 501c3 not-for-profit tax status in the USA. Other early members of the Foundation include Michael Paul, Matthew Hoerl, Bruce Ha, Robert Jacobson, and an extensive advisory board.
For more information visit: http://www.archmission.org