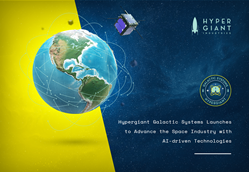 The fully realized potential of space lies at the intersection of data, AI, and other machine-intelligent technologies.
HOUSTON (PRWEB) February 05, 2019
Hypergiant Industries today announced the launch of its Hypergiant Galactic Systems division, with the goal of helping mankind expand its horizon into the next frontier through orbital AI. Hypergiant Galactic Systems will focus on artificial intelligence-driven aerospace and astronautic software and hardware products for the booming space industry.
In its first step towards realizing this vision, Hypergiant Galactic Systems has acquired Satellite & Extraterrestrial Operations & Procedures (S.E.O.P.s), a Houston-based satellite deployment and services provider that offers innovative proprietary launch and deployment systems servicing the CubeSat and MicroSat markets. As a subsidiary of Hypergiant Galactic Systems, S.E.O.P.s will continue to serve customers in defense, government, as well as leading academic institutions in designing, developing, and deploying space satellite constellation arrays. S.E.O.P.s operates classified missions as well as unclassified missions for customers and partners including NASA, DARPA, and Northrop Grumman. S.E.O.P.s currently has allocation on all ISS visiting vehicles (SpaceX Dragon and Cygnus) through its partnership with the Center for the Advancement of Science in Space (CASIS).
"We are beyond excited to welcome S.E.O.P.s to Hypergiant Galactic Systems. S.E.O.P.s will be our key entry platform for intelligent satellite technologies," said Ben Lamm, CEO of Hypergiant. "As we launch Hypergiant Galactic Systems today, we do so knowing that on our first day of operation we have world-class launch and deployment capabilities for anyone seeking solutions for low-earth orbit and beyond. The fully realized potential of space lies at the intersection of data, AI, and other machine-intelligent technologies. We are excited to be at the leading edge of this movement."
S.E.O.P.s is led by CEO Chad Brinkley and CTO Michael Johnson. A space entrepreneur with nearly 20 years of experience in the Aerospace & Defense market, Brinkley's expertise spans the government, military, and commercial sectors. On the technical side, Johnson is the industry leader in designing space research platforms, habitats, modules, launch systems, and spacecraft. He was previously the co-founder of NanoRacks, the first commercial space company to launch CubeSats using the International Space Station (ISS). To date, over 210 CubeSats have been deployed, fueling the rise of commercial space investments. Both Brinkley and Johnson will continue to lead as CEO and CTO of Hypergiant S.E.O.P.s, a subsidiary of Hypergiant Galactic Systems.
S.E.O.P.s became a leader over the last decade in the industry by flying satellites and payloads to low Earth orbit (LEO), utilizing deployment off the International Space Station (ISS), as well as using ISS visiting vehicles. The S.E.O.P.s Slingshot CubeSat launch system was designed to exploit the unused Cygnus vestibule volume of the passive common berthing mechanism (PCBM) by deploying sideways using a zero tip-off mechanism. SlingShot Deployers accommodate any customer's CubeSat formats and configurations. The system can also fly hosted payloads utilizing the core spacecraft for data, power, pointing, and communications. No other system provides comparable space agility. By working with Northrop Grumman, CASIS, and the U.S. National Laboratory, S.E.O.P.s is executing on the vision of the commercialization of space for industries spanning defense, energy, security, and more.
"In joining Hypergiant Galactic Systems, we have gained access to invaluable resources in artificial intelligence, machine learning, intelligent sensors, and more," said Chad Brinkley, CEO and co-founder of S.E.O.P.s. "As we leverage these technologies to enhance our offerings and develop entirely new services, we're confident our customers will be delighted by the new value created through data and machine learning. Today is a great day for space science."
S.E.O.P.s' proprietary sideways deployment also makes it possible to mount SlingShot deployers on a geosynchronous satellite bus such as a Boeing 702 or Lockheed 2100, opening small satellite deployment in the GEO belt. Furthermore, S.E.O.P.s has been testing its MicroSat solution (MACE), which is planned to come online in 2019 to deploy larger spacecraft.
"The era of space commercialization is just beginning, and we're thrilled for S.E.O.P.s to be part of Hypergiant Galactic Systems on this journey," said Michael Johnson, CTO and co-founder of S.E.O.P.s. "We're not just building launch and deployment systems, we're giving people access to corners of the universe previously untouchable in the commercial sector. Combined with the power of AI, the opportunities are truly endless."
Hypergiant Galactic Systems is a subsidiary of Hypergiant Industries, the first machine intelligence industrial complex, recently co-founded in Texas by Ben Lamm. Leveraging emerging technology in AI, space transport, and imaging techniques, Hypergiant Galactic Systems is completing the vision of a universe intelligently powered.
"Artificial Intelligence has the potential to make virtually every machine more efficient. The same is especially true of spacecraft and all the ground systems required to support them. We wish Hypergiant Galactic Systems and S.E.O.P.s the very best as they help us accelerate space exploration beyond what was possible even a decade ago." said Bill Nye, CEO of the Planetary Society.
Hypergiant Galactic Systems will be based in Houston, Texas with a field office in Washington D.C.
To learn more, please visit: https://www.hypergiant.com/divisions/galactic/
About Hypergiant Galactic Systems
Hypergiant Galactic Systems is a revolutionary orbital systems and constellations enterprise that combines artificial intelligence with proprietary hardware and the latest advancements in space access. Focused on evolving international commerce with more accessible and affordable space missions, Hypergiant Galactic Systems identifies, invests in, and acquires celestial technologies that can be integrated with and enhanced by machine intelligence. Currently, Hypergiant Galactic Systems operates Hypergiant S.E.O.P.s, a satellite launch and deployment company utilizing International Space Station infrastructure to service the CubeSat and MicroSat markets through its proprietary launch hardware and software. Hypergiant Galactic Systems is owned and operated by Hypergiant Industries.
About Hypergiant Industries:
Hypergiant Industries is the AI industrial complex for leading global enterprises and governments. We help major institutions innovate with breakthrough machine intelligence-driven technology. The solutions, products, and companies we create support our customers on their mission to speed beyond norms and realize an exploded potential of the future we were promised. We push the boundaries of what was previously thought technologically impossible. We meet our customers in the space where impossibility intersects reality. Where light filters out the dark. And machine intelligence makes everything about your business more intelligent.