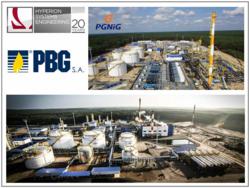 Delivering Operator Training Simulators is one of Hyperion's core businesses. With the successful completion of this project, we have honored the trust that PBG and PGNiG have shown to Hyperion.
Nicosia, Cyprus (PRWEB UK) 1 July 2013
Hyperion Systems Engineering (Hyperion), the leading independent solutions provider, has delivered to PBG the Dynamic Simulator for the new LMG Crude Oil and Natural Gas Extraction plant of the Polish Oil and Gas Company (PGNiG). The LMG facility is one of the largest and most advanced projects completed by PGNiG in recent years and will increase Poland's conventional oil and gas production.
Lubiatów-Międzychód-Grotów facility (LMG) has started production and PGNiG made final acceptance which attests that all structures have been built in accordance with the EPC contract, ahead of schedule and within budget. The simulator contributed to the effective startup by enabling operators to become familiar with the plant and to develop operational skills ahead of the plant being commissioned.
Project completion and production start have been announced by PGNiG in March this year.
Relevant news release can be found at:

Hyperion was subcontracted by PBG, for the provision of the Dynamic Simulator for the LMG facility. PBG was the engineering procurement and construction (EPC) company of the investment, constructing the plant for PGNiG.
The simulator scope included the near wellbore sites, production facilities and power plant. The simulator is now used for operator training and also, for simulating different plant operating strategies. It allows PGNiG engineers to review various plant operating modes and explore what-if scenarios. It also allows PGNiG operators to monitor and control the plant, maintaining plant conditions and avoiding quality give-away.
Hyperion's scope of work included the following components:
Development of high fidelity dynamic process models, using DYNSIM™ dynamic simulation software
Emulation of the plant regulatory controls (distributed control system)
Emulation of the plant operator station graphics
Emulation of the plant emergency shutdown logic
Hardware and software procurements
System integration (dynamic process models, operator graphics, plant control and logic)
Installation and commissioning at site
Provision of appropriate training and documentation (manuals and specifications)
Radoslaw Rzasa, deputy director of the LMG Project at PBG stated, "It was an important project for us. We have rightfully selected Hyperion for the Dynamic Simulator development and delivery. Hyperion's knowhow and experience resulted in a successful delivery, on time and in line with the budgeted cost."
Mr. Dean R. Jones, Executive Vice President of Hyperion stated, "Delivering Operator Training Simulators is one of our core businesses. We are very pleased to have worked with PBG to help them on this important project. Our team is committed to help customers derive real bottom-line benefits from the application of rigorous dynamic simulation techniques across the project lifecycle. With the successful completion of this project, we have honored the trust that PBG and PGNiG have shown to Hyperion."
About Polish Oil and Gas Company
The Polish Oil and Gas Company (PGNiG) holds a leading position in the Polish natural gas market, and is the only vertically integrated gas company in Poland. PGNiG Group is formed in a way that enables coordination of the upstream and downstream operations - from exploration and production, to storage, trade and distribution of gaseous fuels.
The Company owes its competitive edge on the gas market, chiefly to the natural gas and crude oil production. The core business of the PGNiG Group includes trade in and distribution of natural gas.
For more information, see PGNiG online at http://www.pgnig.pl
About PBG
PBG provides comprehensive, specialist contracting services for natural gas, crude oil, and fuel facilities. It acts as a general contractor, consortium member, or sub-contractor with respect to engineering design work, construction, repairs, operation, and maintenance in the field of production of natural gas and crude oil, transmission of natural gas and crude oil, storage of natural gas and fuels.
In the fuel segment, PBG carries out projects involving both construction of new facilities and modernization of existing fuel terminals, together with auxiliary infrastructure.
For more information, see PBG online at http://www.pbg-sa.pl/en/
About Hyperion
Hyperion Systems Engineering is a globally operating, independent provider of consulting & advisory services, systems engineering solutions and professional implementation services and support to process manufacturers. With 20 years of experience in the Upstream Oil & Gas, Petroleum Refining & Petrochemicals, Chemical, Power, Water and Metals industries, Hyperion helps its customers reduce operating and supply chain costs, improve safety and increase their overall profitability, always cognisant of environmental impact.
Employing a workforce of top engineers, consultants and project managers distributed across several locations, Hyperion operates world-wide delivering systems engineering solutions in areas such as Process Modeling and Optimisation, Operator Training Simulators, Basic and Advanced Process Control, Manufacturing Execution Systems, Data Validation and Reconciliation, Laboratory Information Systems, Plant Performance Management and Advanced Supply Chain Planning and Scheduling.
Hyperion's professional advisory and consulting services range from Strategic Opportunity Assessment, Technology Readiness and Front End Engineering Design studies, Project Management Consulting and Program Management, to knowledge transfer assurance, technology review, training and education.
For more information, visit hyperionsystems.net or contact:
Hyperion Systems Engineering Ltd.
38, Strovolou Avenue
Nicosia, CY2018, Cyprus
Phone +357 22840700
Fax +357 22590009