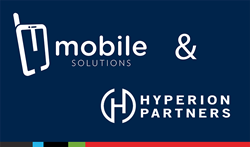 LAS VEGAS and CENTENNIAL, Colo. (PRWEB) May 09, 2019
Founded in 2012 and with national presence, Hyperion's innovative approach to sourcing, kitting, and staging has separated them from other technology companies. Their logistics planning is designed around the gaps in the wireless industry. Hyperion Partners has a nationwide footprint in businesses of all sizes and segments. Hyperion Partners is also a Sprint Mobility Solutions Platinum Partner and Master Agent. The company has deep experience applying all aspects of mobility and complementary technologies. This allows customers to focus on their core competencies that achieve business goals and to not worry about keeping pace with emerging technologies.
Kerry McGonigal, Managing Partner at Hyperion Partners, said, "Mobile technology continues to evolve. We're excited to partner with Mobile Solutions because of their ability to provide strategic and complete mobility management offerings to our agents and customers."
"Hyperion's dedication to delivering personal, knowledgeable solutions to their clients is aligned with our own vision of driving a best-in-class mobility experience," said Jim Johnson, Mobile Solutions Co-Founder and CEO.
Mobile Solutions continues to drive results with their next-gen mobility management solution, MAX. MAX was designed from the ground up with feedback and input from the admins who are in the system every day. Built with the user experience in mind and offering in-cycle analytics, MAX delivers a unified platform for all mobility management needs.
Steve Haddock, Mobile Solutions EVP of Sales, is "excited to join forces with an industry expert in the space. Hyperion Partners prioritizes the customer experience and specializes in bringing together unique wireless solutions across their partner community, enabling their Sprint carrier reps across the country. We look forward to growing together."
Through the partnership with Mobile Solutions, Hyperion Partners will provide best-in-class mobility services, creating functional efficiencies and simplifying their clients' mobile environment. Together they will help agents provide a simple, comprehensive solution to the demands of a rapidly changing mobility landscape. Clients will benefit from Mobile Solutions' easy-to-use portal, 24x7 in-house service desk, and teams of mobility experts.
"At the end of the day, it's simple; Hyperion Partners is knowledgeable in the space and they understand the value proposition Mobile Solutions offers. We look forward to working together, to provide clients with turnkey solutions that address their mobility management needs," said Matt Jackopin, Director of Channel Sales at Mobile Solutions.
About Mobile Solutions
Mobile Solutions is an award-winning SaaS company that provides full life-cycle Managed Mobility Services including procurement, staging and kitting, real-time expense management, business analytics and reporting, account optimization, 24x7 US-based support, Unified Endpoint Management, and device reclamation services. Our 24x7, in-house service desk and real-time account management make us more than an industry leader in mobility management. It makes us your partner. For more information, click here to check out our offerings!
mobilesolutions.net | LinkedIn | Twitter | Facebook | Instagram | Blog
About Hyperion Partners
Hyperion Partners LLC is a full-service business development and technology consulting firm specializing in mobility. Founded in 2012, Hyperion brings to bear decades of executive and functional expertise spanning wired and wireless carriers, OEMs, manufacturing, logistics, channel development, sales, marketing, business development and consulting. Hyperion focuses on the generation of revenue for their clients and partners through delivery of customized solutions, the creation of new customers, the formation of strategic relationships and the commercialization of products and services. They offer dedicated care and technical support through the ordering, activation, and implementation processes. Hyperion Partners acts as a consultant to customers and partners to ensure their customer gets the most practical, affordable, and complete solution possible.
For more Information: LinkedIn | Twitter | Company Website