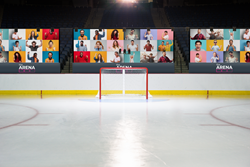 The Arena Fanwall satisfies a fan's need to experience sports entertainment with the same accessibility and immersiveness as other parts of their lives, such as work and education.
SPARTANBURG, S.C. (PRWEB) August 25, 2020
Life throws curve balls occasionally that every individual and business must face at one time or another, and 2020 has certainly had its fair share of disruptions. As a business with years of experience in visual communications, Hypersign faced these challenges head-on to meet the rising need for an event broadcasting platform by releasing The Arena. The Arena has already been a timely and successful solution for many markets with the ability to outfit corporate meeting rooms and university classrooms for fully virtual attendees and a hybrid model of physical and virtual attendees.
The latest market to benefit from this innovation is sports and entertainment with the Arena Fanwall model. Traditionally, streaming sports has been a one way experience for fans watching from their living rooms. With the need for social distancing, that one-way experience needs an upgrade because without fans, a game or event is nothing more than a scrimmage. Seeing fans cheering and encouraging their favorite athlete or team is part of the overall experience for fans, athletes and coaches alike. That being said, The Arena Fanwall not only streams the event to the fans, but it also brings the fans from their living rooms into the stadiums, arenas, courts, and tracks so the athletes and coaches can see and hear them too.
The Arena Fanwall utilizes LED video walls positioned in the stands broadcasting an array of life-sized remote fans, eagerly participating in the event. In addition to its application during a game or event, the Arena Fanwall can be used for special fan experiences with their favorite athlete, recruiting, lessons with a renowned coach, and so much more!
The Arena Fanwall requires no app to download, gives the ability for the fan to pick their seat within the venue, has embedded security to prevent unauthorized attendees, and has integrated one way broadcasts to streaming services like Twitch, Facebook Live, YouTube live, Akamai, Ustream or Wowza for on network services. Additionally, the Arena Fanwall includes localized broadcast quality cameras to provide fans a localized experience for their chosen seat, and introduces dozens of video sources or broadcast video feeds. As part of that experience, the ability to mix broadcast audio sources with ambient venue audio is included, and on the Fanwall side there are integrated fan noise generators to help the athletes experience the crowd much like an in seat game. Lastly, it is a monetized solution through the sponsorship module, and has a mode for advertising or time-outs that can use pre-roll and mid-roll ads.
Hypersign is currently in negotiation with dozens of pro sports venues on the implementation of the solution. Douglas Moss, general manager for sports and entertainment at Planar, a global leader in visualization technology and LED display partner in the solution, stated "The Arena Fanwall introduces a fundamental shift in how sports will be experienced by fans. With this introduction, we are not only able to service existing fans when they cannot physically attend the venue, but we can also attract new fans to the respective sport and expand their fan base."
Neil Willis, Founder and CEO of Hypersign stated "The year 2020 will be known as the year we all changed how we experienced work, education and entertainment. The Arena Fanwall satisfies a fan's need to experience sports entertainment with the same accessibility and immersiveness as other parts of their lives, such as work and education. We are excited to be a part of this new fan experience!"
The Arena Fanwall and other Hypersign solutions are available for purchase through their various partners, contracts and resellers. For more information visit Hypersign.com or contact sales@hypersign.com.
About Hypersign
Hypersign is a visual communications company, based in the United States, known for their virtual events solution, the Arena, and their award winning digital signage platform, Hypersign+, and its accompanying extensions, Waystation, Roomfusion, and Huddleup. Hypersign, headquartered in South Carolina, currently has customers throughout North America, Europe, Asia and the Middle East. Hypersign products are prominent in industries like healthcare, education and enterprise business. For more information, visit http://www.hypersign.com