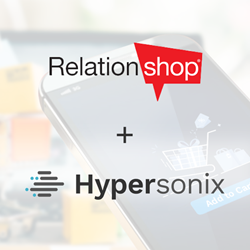 Now more than ever, it is critical that retailers utilize the latest AI-powered innovations within their branded digital experience. Our combined offering allows the retailer to fully personalize and unify the in-store and online commerce channels.
SAN JOSE, Calif. (PRWEB) February 11, 2021
Hypersonix Inc. and Relationshop, Inc. announced today that the two companies are partnering to provide a best-in-class platform that enables retailers to provide personalized and highly engaging digital shopper journeys. The partnership combines the Hypersonix Artificial Intelligence based shopper analytics with the Relationshop Digital Experience Platform.
Consumers today have an expectation that the digital experience with their favorite retailers will be easy—"frictionless". They expect the retailer to help them save time and money by personalizing and connecting the shopping experience across all digital and social channels. They expect their retailers to know their personal product, brand and channel preferences and to use this knowledge to curate the experience based on what matters to each of them individually. However, for the retailer, making all this happen can be a daunting task. They must integrate a variety of systems, capture and aggregate terabytes of disparate data, derive insights that can be acted on, and operationalize all of it without creating "friction" within the customer experience.
Hypersonix will analyze volumes of customer and product data including customer transactions in-store and online, as well as digital and promotional activity. The analysis will help retailers create data-driven customer tiers, performance segmentation based on Recency, Frequency and Monetary Spend (RFM), or micro-segments based on customer behavioral trends such as category participation, product and brand affinities, etc. The analytics and machine-learning models can be used to target personalized offers and content to specific audiences, such as parents with infants, vegetarians, pet owners, even craft beer and wine lovers.
Since entering the market, Hypersonix has built an array of capabilities centered around innovations such as Auto Machine Learning, Data Unification, Data Science, and Natural Language Processing (NLP), all combined with a focus on delivering diagnostic, predictive, and prescriptive insights for non-technical decision makers. Hypersonix automates the rendering of actionable customer and product insights through a "Google-Like" integrated Intelligent Decision Agent called Jarvix®.
Relationshop will consume Hypersonix shopper insights and AI-powered recommendations to activate and personally engage shoppers through their Digital Experience Platform. DXP delivers a fully integrated and highly immersive omni-channel experience for the retailer and their customers. This unified, time and location-aware platform, includes a robust retailer-branded website and native mobile apps, coupled with integrated email, text, push and social capabilities. Shoppers are presented with an individually curated and seamless digital experience that can include behavior-based product recommendations, new item suggestions, relevant dietary content, personalized circulars, targeted promotions, and more.
"We are very pleased to be partnering with such an innovative and industry leading company. Relationshop is helping retailers improve shopper loyalty by fully enabling web, mobile and e-marketing best practices," said Todd P. Michaud, President and Chief Commercial Officer at Hypersonix. "Retailers leverage Relationshop to personalize and shape their customer's digital experience resulting in bigger, more profitable baskets, and increased loyalty."
"Our partnership with Hypersonix allows us to help our retail clients set themselves apart from their competitors by individualizing their branded digital experience. We understand the value and importance of personalization not only to the customer experience, but also the retailer's bottom line," said Randy Crimmins, President at Relationshop. "Now more than ever, it is critical that retailers utilize the latest AI-powered innovations within their branded digital experience. Our combined offering allows the retailer to fully personalize and unify the in-store and online commerce channels."
About Hypersonix, Inc.
Hypersonix offers the most comprehensive cloud-based, Enterprise AI platform that enables consumer commerce decision-makers to make smart decisions fast—empowering them to get real-time intelligence, actionable insights and recommendations to take timely actions leading to business success. Hypersonix's diagnostic, predictive and prescriptive analytics can measure and monitor business results, clarify why results are occurring, and recommend actions to drive improvements.
Leveraging innovations in Machine Learning (ML), Natural Language Programming (NLP) and real-time data computing, the platform offers a simple, fast "Google-like" experience supported by "Jarvix," a virtual assistant. Designed for Retail, Restaurant, Hospitality, e-Commerce, Consumer Packaged Goods (CPG) and Brand Manufacturers, Hypersonix helps several leading brands and clients today to drive profitable growth, save money and improve customer engagement.
Founded in 2018 by former executives from SAP, IBM, PayPal and Epsilon, the company has been featured in the Wall Street Journal, Fortune, TechCrunch, along with other outlets. It is based in San Jose, California with offices in Sacramento, California and Bangalore, India.
About Relationshop®
Relationshop is a leading provider of highly personalized, customer engagement and commerce solutions for retail. Our experienced team is passionate about helping retailers create connected digital experiences and grow customer loyalty through proven strategies, automated 1:1 engagement and omni-channel personalization. DXP, Relationshop's® Digital Experience Platform built for high-velocity retail, first launched in 2011 and is now in its fifth generation.