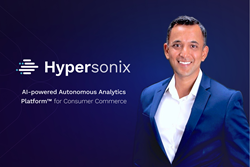 Hypersonix provides enterprises with industry-specific AI capabilities targeted towards decision makers and business leaders, who demand accelerated time to value." - Mark Rostick, vice president and senior managing director at Intel Capital
SAN JOSE, Calif. (PRWEB) May 14, 2020
Hypersonix has received $11.5M in Series A funding led by Intel Capital with participation from existing investors. Hypersonix was founded by successful serial entrepreneur and former SAP executive Prem Kiran, and is led by an impressive co-founding team, including Rama Rao, former MIT research faculty member for advanced analytics, as well as former PayPal and Intuit data executive, and Todd Michaud, a former IBM executive and former president at Retalix. Hypersonix is an autonomous analytics and decisioning platform that is transforming consumer commerce data with artificial intelligence and automation. Amazon Lab126 is among its early customers.
The investment comes at a time when IDC predicts worldwide revenues for big data and business analytics (BDA) solutions to reach $274.3B by 2022. It also arrives on the heels of Gartner's finding that, by 2021, "NLP and conversational analytics will boost analytics and BI adoption from 35% of employees to over 50%, including new classes of users, particularly front-office workers."
"Every wave of IT innovation creates a new set of opportunities," said Mark Rostick, vice president and senior managing director at Intel Capital. "Hypersonix provides enterprises with industry-specific AI capabilities targeted towards decision makers and business leaders, who demand accelerated time to value. Hypersonix offers an easy to use self-serve platform that interprets and provides insights at a level that allows business leaders to focus on their core business and not overload their IT." Vijay Reddy, investment director, at Intel Capital who focuses on investments in AI and Infrastructure, will be joining the Hypersonix board of directors.
"Companies of all sizes are looking for guidance amidst unprecedented challenges," said Prem Kiran, Founder & CEO, Hypersonix. "We are here to empower everyone within the enterprise with a self-service analytics solution that offers recommendations in the moment, leveraging existing data sources alongside purpose-built engines that understand pricing, churn, consumer behavior patterns, along with external data like weather and local events, to meet the particular needs of consumer commerce."
Kiran continued, "Timeliness, and time-to-value, have become more important than ever, as companies navigate a post-COVID-19 marketplace, where the value of historical data has become a distant second to the real-time connection between customers and their needs."
Hypersonix has raised $15M+ in funding to date and intends to use the capital for the rapid expansion and deployment of its Autonomous AI Analytics platform within consumer commerce industries, including retail, restaurant, hospitality, e-commerce, consumer-packaged goods (CPG) and manufacturing. The company has already demonstrated YoY growth of over 400%, with a rapidly growing portfolio of leading brands.
Hypersonix's funding follows recent high-profile exits that include Tableau (acquired by Salesforce) and Looker (acquired by Google).
About Hypersonix
Hypersonix offers the most comprehensive cloud-based, AI-powered autonomous analytics platform that enables consumer commerce decision-makers to make smart decisions fast—empowering them to get real-time intelligence, insights and recommendations to take timely actions leading to business success. Hypersonix's predictive and prescriptive analytics can measure and monitor business results, clarify why results are occurring, and recommend actions to drive improvements. Leveraging innovations in Machine Learning (ML), Natural Language Programming (NLP) and real-time data computing, the platform offers a simple, fast "Google-like" experience supported by "Jarvix," a virtual assistant. Designed for Retail, Restaurant, Hospitality, e-Commerce, Consumer Packaged Goods(CPG) and Brand Manufacturers. Hypersonix helps clients drive profitable growth, save money and improve customer engagement. Founded in 2018 by former executives from SAP, PayPal and IBM, the company is based in San Jose, with offices in Sacramento, California and Bangalore, India.