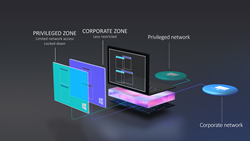 "Hysolate answers an immediate need in the Japanese market of providing world-class protection against cyber threats while not compromising on productivity and user satisfaction. Together, our teams are bringing a winning Cyber solution to Japanese enterprises."
NEW YORK (PRWEB) June 04, 2020
Hysolate, pioneer of endpoint isolation solutions, and Asgent, the leading Japanese software and services distribution corporation, have announced a partnership agreement to bring Hysolate's innovative Virtual Airgap (vGap) technology to the Japanese enterprise market.
Hysolate vGap helps organizations quickly deploy isolated operating systems to personal or corporate issued endpoints for enhanced security and productivity. It is deployed by numerous organizations worldwide across finance, manufacturing, and services and provides a virtual air gap, designed to separate sensitive corporate network and online assets from potential cyber threats originating from external web browsing and insecure network access.
Hysolate's technology, coupled with Asgent's IT services expertise, will allow Japanese enterprises to benefit from world-class cyber security prevention software that will minimize the risk of cyber attacks, adhere to the most rigorous security and privacy policies, and ensure effective and long lasting cyber hygiene to their clients.
"I am extremely excited to partner with Asgent to bring Hysolate's products into the Japanese market." said Ido Samson, VP of Sales at Hysolate. "Asgent's strong client base and their understanding of market needs is second to none. We are honored to partner with them to deliver innovative cyber security solutions to Japanese enterprises."
"Hysolate answers an immediate need in the Japanese market of providing world-class protection against cyber threats while not compromising on productivity and user satisfaction." Said Takuya Sugiyama, Executive Director, Senior Vice President at Asgent. "Together, our teams are bringing a winning Cyber solution to Japanese enterprises."
About Hysolate
Hysolate is a modern secure workstation software platform that enables running multiple isolated operating systems on a single device with a unified and seamless user experience. Using Hysolate, organizations can apply the utmost security when accessing sensitive corporate systems and data without impacting user productivity.
About Asgnet
Asgent is a developer and distributor of pioneering network security solutions for enterprise and medium sized organizations. With an eye on the future, and a reseller base of over 100 systems integrators, they command an impressive reputation for creating markets for new products and for making overseas and domestic network security products best sellers in Japan.