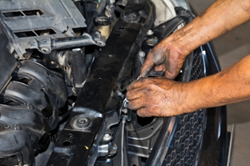 Our Hyundai and Kia brands that we have listed on our website will be fulfilled by selected distributors able to provide faster deliveries
Portland, OR (PRWEB) August 27, 2015
The technology upgrades enacted by Hyundai for its fleet of Korean manufactured vehicles helped to establish the Lambda II platform. The Preowned Engines company is now announcing its addition to the import inventory promoted on the company website that features Hyundai Azera 3.3L engines. More details about these used condition blocks can be acquired at http://www.preownedengines.com.
The units that consumers can purchase are the 293 horsepower models that were introduced in the year 2011. These GDI V6 editions were featured in the 4-door sedan version of the Azera cars. The used G6DH blocks currently listed feature a sale price that includes the cost of domestic freight.
"Our Hyundai and Kia brands that we have listed on our website will be fulfilled by selected distributors able to provide faster deliveries," said one rep from the PreownedEngines.com website.
The 3.3-liter 6-cylinder used engines that are part of the imported vehicle products inventory have been road tested and evaluated for exterior quality. These quality control tests are one strategy in use by the POE company to provide accurate descriptions of all used condition versions available for retail sale.
"The Azera compatible blocks and other units that we list for consumers to review are covered through our own internal warranty policies," said the rep.
The Preowned Engines company will continue to process orders through its offline call center at 1-866-320-1065. For consumers who prefer to receive unassisted ordering, an expedited checkout process has been developed for use on the company website. People who use laptop computers or smartphones will people to complete orders faster.
About PreownedEngines.com
The PreownedEngines.com company showcases used condition vehicle parts that are for sale on its website. The company helps consumers to find fulfillment solutions from nationwide partners. The PreownedEngines.com company has a team of professionals that provide information prior to ordering by phone and through a web resource center on the company website.