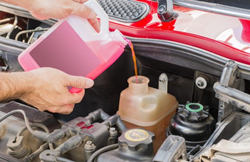 WAUKESHA, Wisc. (PRWEB) January 16, 2023
Vehicles that are powered by an internal combustion engine contain several mechanical components that come in contact with each other, in turn generating heat. However, during combustion, the vehicle's engine gets rapidly heated up to the north of boiling point temperatures. A cooling system found inside the engine works by circulating a high-grade coolant liquid through complex distribution systems and cools the engine's temperature to keep it at nominal limits. Like any other fluid, the coolant also loses its property over time and may not be able to control the engine temperature causing overheating. The engine is at its most vulnerable state above permissible temperature levels, causing irreversible damage to critical parts.
At Boucher Hyundai of Waukesha, the dealership offers $15.00 off on coolant checks up and services. Note that this offer cannot be combined with other offers, and the coupon must be presented at the time of write-up. The offer stands valid till March 31, 2023.
Customers can get the following services as part of this service special:

Refill Coolant
Pressure Test System
Check and Drain the Cooling System
Interested parties may schedule a service appointment on the dealership's website. The dealership also has the latest Hyundai vehicle models ready in stock. Boucher Hyundai of Waukesha provides attractive financing and trade-in deals for their customers.
Individuals can contact Boucher Hyundai of Waukesha by dialing 262-254-6918 or visiting 1583 E. Moreland Boulevard in Waukesha, Wisconsin.