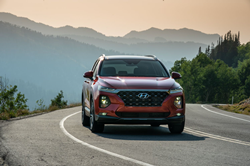 MELBOURNE, Fla. (PRWEB) May 21, 2020
Hyundai Motor America has provided a lot of initiatives throughout the events that have been affecting the country over the past few months, including its Job Loss Assurance program, which offered peace of mind for recent or prospective new car buyers with the heightened risk of losing their job. Now, HMA is enhancing its Military and First Responders programs to benefit those on the frontlines.
During the time of this enhancement, any active or retired member of the military, any active first responder, healthcare worker or hospital employee, or a spouse of any of the aforementioned will receive $1,000 toward the purchase of any new Hyundai vehicle. The offer became valid earlier this week on May 18 and will remain so until June 1.
In addition, Coastal Hyundai is offering the Healthcare Hero Program, an offer that is good through May 31st. This program is good for any Hyundai vehicles that are from the 2017 model year or newer and provides a 1.89% annual percentage rate for 84 months with no payment for 120 days, pending approved credit. Those eligible to benefit from the Healthcare Hero Program include employees of blood banks, hospitals, nursing homes or assisted living, Florida Fish and Wildlife, Florida Highway Patrol, the Department of Corrections, Department of Homeland Security, the sheriff's office or the police department, as well as firefighters, paramedics and EMTs.
Those interested in taking advantage of these deals can find the dealership's inventory of new Hyundai vehicles on its website, http://www.coastalhyundai.com. Any questions about these programs can be directed to the sales team at Coastal Hyundai, reachable at 321-878-8927. Coastal Hyundai is located at 915 New Haven Avenue in Melbourne.