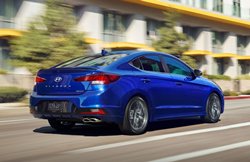 ALBANY, Ore. (PRWEB) April 24, 2020
The COVID-19 health crisis has dramatically impacted many people in our country and throughout the world, with tragic health consequences, the sacrifices of staying at home, and a significant downturn in the economy. Hyundai of Albany, a dealership in Albany, Oregon, has implemented several initiatives to address the COVID-19 crisis.
The health of customers and employees is of the utmost importance to Hyundai of Albany. The dealership thoroughly cleans and sanitizes the facilities, the vehicles for sale, and any vehicle that has service work. Hyundai of Albany is also adhering to the recommended six feet of social distancing.
The sales department at Hyundai of Albany is open for online shopping and the delivery of vehicles. With the dealership's recently launched website, customers can shop for a Hyundai vehicle from the comfort and convenience of their home. The sales associates at Hyundai of Albany can assist customers either online or over the phone. With test drives and after purchasing or leasing a Hyundai, Hyundai of Albany will deliver a vehicle directly to a customer's home. The dealership can also conduct an at-home appraisal for customers that are planning on trading in their current vehicle.
As an essential business, the Hyundai of Albany Service Center remains open. Whether it's for routine maintenance or significant repairs, the dealership can handle any of the service needs for vehicles. Also, for the convenience for customers, Hyundai of Albany provides pick-up and delivery of vehicles when doing service work.
In addition to the loss of life and the adverse health effects, COVID-19 has severely affected the economy, with a considerable loss of employment. Hyundai is addressing this with the Hyundai Assurance program. Customers that purchase a new Hyundai vehicle can get 0% financing and defer vehicle payments for up four months. For customers that lost their job, Hyundai Assurance will cover vehicle payments for up six months.
For more information about the COVID-19 initiatives at Hyundai of Albany, automotive customers can visit the dealership's website at http://www.hyundaiofalbany.com or call (541) 967-9105.
Hyundai of Albany is located at 2425 Santiam Hwy SE in Albany.