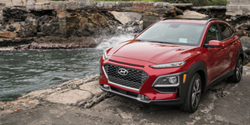 MANKATO, Minn. (PRWEB) June 10, 2020
Hyundai of Mankato has implemented a new tool on its website to give automotive customers the ability to shop for their vehicle from the comfort of their home. Using the simple click-to-buy feature online, users can browse the Hyundai of Mankato inventory, configure their entire vehicle payment, estimate their trade-in value and credit, arrange a contactless delivery test drive and more.
Anyone can begin the online buying process with Hyundai of Mankato by first visiting the dealership's online inventory. From there users can browse and filter through inventory, selecting details they want to see in their next vehicle. Once a vehicle has been selected the click-to-buy process is as easy as clicking "Start My Purchase" to launch the at-home shopping system.
This online program brings everything customers will need into one place, syncing information from the dealership, manufacturer, financial department and more. Individuals can then navigate through prompts that will ensure every mark is hit and no step in the shopping process is missed.
After successfully completing each of the online steps, users can opt to schedule an at-home test drive, begin their credit approval process or send their completed deal directly to the Hyundai of Mankato team. From there an appointment will be scheduled to finalize the entire automotive purchase using everything shoppers inputted online, meaning the in-person appointment will pick up right where the user left off online.
Drivers in the Mankato area looking to purchase a new Hyundai vehicle can view dealership's virtual showroom by visiting https://www.hyundaiofmankato.com/. For specific inquiries, a member of the dealership's sales team can be contacted directly by phone, 507-550-1175. Hyundai of Mankato is located at 1281 Raintree Rd, Mankato, MN 56001.