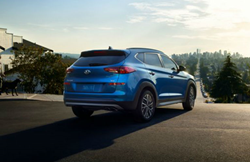 MANKATO, Minn. (PRWEB) December 16, 2020
Hyundai of Mankato is offering year-end savings that will fit the bill for shoppers looking to get behind the wheel of a new vehicle this December. From now through Jan. 4 individuals may be eligible to finance a new 2020 or 2021 Hyundai vehicle with a 0% APR (Annual Percentage Rate).
This 0% APR offer is available on select members of the 2020 and 2021 Hyundia model lineup. Qualifying customers may be able to finance a new 2021 Hyundai Venue SEL with a 0% APR for 60 months or a new 2021 Hyundai Accent with a 0% APR for 48 months.
Customers searching for a new family-friendly Hyundai SUV may be considering a new five-passenger 2020 Hyundai Santa Fe. Select 2020 Santa Fe SE, SEL and Limited models may be financed for 72 months with a 0% APR. Select 2021 Hyundai Kona, Sonata and Tucson models are also taking part in this 0% APR offer.
Shoppers looking to get behind the wheel of a new Hyundai vehicle can take advantage of this offer up until Jan. 4. The no-interest financing offer is available for qualifying buyers and customer credit is subject to approval by Hyundai Motor Finance.
Anyone can view the lineup of available Hyundai vehicles at Hyundai of Mankato by visiting the dealership's website, hyundaiofmankato.com. Hyundai of Mankato is located at 1281 Raintree Rd, Mankato, MN 56001 and is open six days a week. The dealership's sales department hours are from 9 a.m. to 7 p.m. Monday through Thursday, 9 a.m. to 6 p.m. on Fridays and 9 a.m. to 5 p.m. on Saturdays. Individuals with specific inquiries are encouraged to contact a member of the Hyundai of Mankato team directly by calling 507-550-1175.