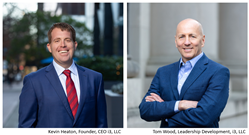 "Operation of the family's best interest in calm may be tested in times of crisis. The Family Constitution creates a unified, structured set of basic laws and principles by which to guide critical decisions and actions."-Kevin Heaton, Founder & CEO, i3, LLC
COLUMBIA, S.C. (PRWEB) January 15, 2020
i3, LLC., a select private asset management and family CFO services firm, today announced they are a proud sponsor of the 2020 Transitions Spring Conference, held in Tampa Bay, Florida (March 4-6, 2020). The conference is sponsored by Family Business Magazine and is the only conference created for families, by families.
This year's Spring conference is focused on "The Power of Culture."
Every family owned business, whether they know it or not, has a family culture that can either hurt or help the business and the family. And sometimes it does both. Transitions Spring 2020 will explore the many ways that family business culture can affect a company's mission, values, leadership, profitability and performance.
i3 Founder and CEO Kevin Heaton and i3 Leadership Development Coach Tom Wood will attend and will lead two break-out sessions – "Bring Your Family's Constitution to Life: A guide to capturing your family's story," Thursday March 5th from 11:15 AM -12:15 PM and Friday March 6th from 9:30 AM -10:30.
"The Family Constitution forms the framework that connects family members, family offices, family businesses, family investment companies, and family trusts," said CEO Heaton. "Through clearly defined amendments, family members and their advisors ensure the smooth governance of the family's affairs and interests. Operation of the family's best interest in calm may be tested in times of crisis. The Family Constitution creates a unified, structured set of basic laws and principles by which to guide critical decisions and actions. We look forward to leading Transitions Spring 2020 conference attendees – no matter their current level of Constitution articulation – through the creation, review and consideration of Family Constitution amendments."
To learn more about i3 and its services, please visit: http://i3resources.com
About i3
i3 is a boutique private asset management firm providing high net worth families, closely-held companies and private institutions access to relevant information, the infrastructure to acquire and manage assets, and investment options that allow the preservation and continued re-investment of capital.