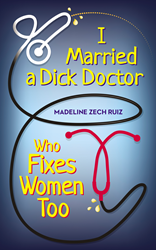 LOS ANGELES (PRWEB) October 12, 2020
If you own a penis or a vagina, you need to read this book!
Author Madeline Zech Ruiz uses an upbeat approach to discuss the top 10 urological issues that affect both men and women. At some point in your life, you will need to see a urologist. This book is gentle enough for every man to read and funny enough for every woman to enjoy. The D**k Doctor's wife makes it safe to talk about all things urology and encourages you to embrace your plumbing.
http://www.IMarriedaDickDoctor.com
http://www.VeronicaLaneBooks.com
Author Madeline Zech Ruiz has been married to her reconstructive urologist husband, Dr. Henry Ruiz, aka The D**k Doctor for almost 20 years. As "the Doctor's Wife," Madeline has embraced her role as "a human conduit between patients and the highly skilled doctor" in helping friends and family, neighbors and even strangers to discuss their medical urological situations with her in sensitive and oftentimes humorous ways. Madeline is a mom and resides in McAllen TX.