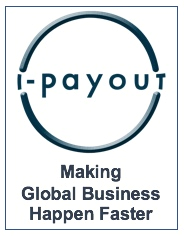 FORT LAUDERDALE, Fla. (PRWEB) October 08, 2020
i-payout, the world's leading provider of customized SaaS software for global disbursements and related payment management solutions is announcing the further enhancement of its in-house capabilities in the all-important areas of regulatory compliance and risk assessment. The Company's is making this move in support of the rapid global expansion that it is experiencing in 2020.
"We have brought onboard the Bridger Insight suite of solutions - a product of LexisNexis - as well as the LexisNexis World Compliance Data product", said Eddie Gonzalez, i-payout President/C.E.O, he continued, "These powerful tools enable us to further insulate our clients and ourselves from risk – both reputational and financial".
The Bridger Insight and World Compliance Data products are being focused on enhancing capabilities in two areas in which i-payout is already certified as having employed the industry's best practices.
The first area falls under the Know Your Customer (KYC) heading. There are established KYC guidelines to follow and measures to take for the successful identification of bad actors – or even questionable ones - prior to establishing a business relationship. Failure to follow mandated KYC processes when working as a facilitator and manager of financial payments can not only expose a company to financial and reputational harm, it can result in a temporary or permanent shutdown of operations.
The second area where the LexisNexis products will be used is to help navigate in the ever-changing regulatory environment. Authorities in the United States and around the world have increased efforts to combat money laundering and the funding of terrorism. Anti-Money Laundering (AML) regulations and rules change frequently at the local, national and international levels. It is essential to stay in compliance with those changing regulations and rules – working with the Bridger Insight and World Compliance Data tools gives i-payout an increased ability to fully comply with regulations, world-wide.
Mr. Gonzalez concluded, "One of our competitive advantages is plain to see – it's the unmatched customizations that we provide to each client. They are plain to see because clients use them. What's unseen by clients is the highly-focused diligence we bring to making sure that we only conduct business with thoroughly vetted entities and individuals and that we follow regulations fully in every jurisdiction that we service. These LexisNexis tools will help us be even better at something that we already do exceedingly well".
About i-payout
i-payout is the world's leading financial software company that provides a custom platform that facilities global payments. It serves multi-national clients in over 180 countries . System users have over 40 ways to make payments, worldwide. In addition to payment disbursal and related payment management services, the Company's suite of solutions cover regulatory compliance, fraud/data security, escheatment services as well as identification of year-end taxes due as required by country and regional jurisdictions.
i-payout supports a diverse group of verticals including gig networks, insurance companies, eSports, royalties, marketplaces, clinical trials, direct sellers, and more. The Company was founded in 2007 by Edwin Gonzalez, President & C.E.O. Mr. Gonzalez has held leadership roles within the financial software industry for over 20 years. At i-payout, he collaborates with a highly accomplished group of fintech professionals. Many of which have decades of experience in the fintech space.