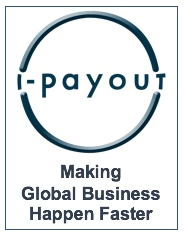 FORT LAUDERDALE, Fla. (PRWEB) March 05, 2021
i-payout, the world's leading provider of customized SaaS software for global disbursements and related payment management solutions continues to expand its global payment capabilities.
i-payout serves industries who need a reliable, low-cost and efficient solution for mass payments across the world. It provides these services to marketplaces, gig networks, affiliate marketing companies, non-gambling eSports, insurance companies, royalties, direct sellers and more.
With an expanding European presence and a growing client base in the Americas, i-payout needed to add capacity to its network. The AFEX API gives i-payout access to its entire global banking infrastructure and compliance capabilities. The technology automatically selects the most efficient payment rails, saving time and money for i-payout's clients, while simplifying the scheduling and reconciliation process.
"We tested the AFEX services first with their online platform, AFEXDirect, and that quickly convinced us to take the next step to a full integration," said Eddie Gonzalez, i-payout President and CEO. "The AFEX team made the process fast and easy. The services are a great fit and, now, with the AFEX payments infrastructure we can serve even more clients around the world."
"We're thrilled to be working with i-payout," said Laura McLoughlin, AFEX Americas Partnership Director. "It was a long courtship and we got to know each other very well—they challenged us and we challenged them. We're looking forward to supporting their growth across the globe."
About i-payout
i-payout is the world's leading financial software company that provides a custom platform that facilities global payments. It serves multi-national clients in over 180 countries. System users have over 40 ways to make payments, worldwide. In addition to payment disbursal and related payment management services, the Company's suite of solutions cover regulatory compliance, fraud/data security, escheatment services as well as identification of year-end taxes due as required by country and regional jurisdictions.
i-payout supports a diverse group of verticals including gig networks, insurance companies, eSports, royalties, marketplaces, clinical trials, direct sellers, and more. The Company was founded in 2007 by Edwin Gonzalez, President & C.E.O. Mr. Gonzalez has held leadership roles within the financial software industry for over 20 years. At i-payout, he collaborates with a highly accomplished group of fintech professionals. Many of which have decades of experience in the fintech space.
For more information write to discover@i-payout.com.