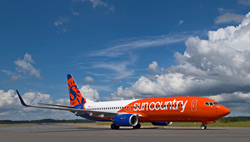 IRVINE, Calif. (PRWEB) December 05, 2018
New Livery for Sun Country Airlines
IAC was pleased to be a part of the transformation of the first Sun Country Airlines Boeing 737-800 aircraft into the new employee-chosen livery. Sun Country put a fun spin on the creation of the new branding by letting their employees vote from four different livery designs. While all four liveries had similar elements, the airline says it was a "landslide victory" for the winning livery. The final product came out amazing!
During the painting process, IAC worked hand-in-hand with the Sun Country team, hiring local Florida videographer Lans Stout to capture the transformation of the aircraft into the new livery. View the Lake City team in action here!
Fun Facts: There were 170 gallons of primer and paint and over 325 rolls of various tape used on the aircraft, and the IAC team worked around the clock for 9 days!
About International Aerospace Coatings
IAC, comprised of three legacy companies Eirtech Aviation, Leading Edge Aviation Services and Associated Painters, has global headquarters in Shannon, Ireland with 13 state-of-the-art facilities throughout USA, Europe and Asia, including 8 wide body hangars. The company boasts the largest global footprint in the aircraft painting industry. IAC serves the commercial, military, VIP and OEM aviation markets and has worked on nearly every make and model aircraft in modern existence. Currently, IAC refinishes over 1000 aircraft per year throughout its global network. For more information, visit our website at http://www.iac.aero.
About Sun Country
Sun Country Airlines is a privately-held company based in the Twin Cities of Minneapolis/St. Paul. The award-winning airline is a leader in leisure travel flying to more than 50 popular destinations across the U.S., Mexico, Central America and the Caribbean, having earned a reputation for offering world-class service at an affordable price. The airline also offers services from its Sun Country Charters and Sun Country Vacations divisions. For more on these Sun Country destinations and to book travel, including flight and hotel packages, visit suncountry.com.
Contact: Nikki Thomas
Phone: +1 714.881.1887
Email: Nikki(dot)Thomas(at)iac(dot)aero