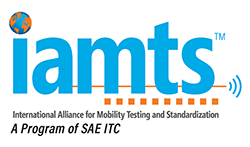 "Based on the broad expertise and best practices of IAMTS members, a reference process for the correlation of virtual and real-world testing was developed." Tobias Dueser, head of ADAS/AD virtual testing solutions of AVL and the IAMTS working group leader for this effort
WARRENDALE, Pa. (PRWEB) April 01, 2021
The International Alliance for Mobility Testing and Standardization (IAMTS) today announced the availability of its first best practice titled, "A Comprehensive Approach for the Validation of Virtual Testing Toolchains." The best practice, which is available for free on the IAMTS website, outlines an approach to validate simulation tools, toolchains and models. It combines established methods, standards and regulations with new approaches to define an overall process that is sustainable, traceable and efficient. In addition, it considers global and cross-regional applications.
"Virtual testing will play a major role in validation and homologation of automated driving," said Tobias Dueser, head of ADAS/AD virtual testing solutions of AVL and the IAMTS working group leader for this effort. "Based on the broad expertise and best practices of IAMTS members, a reference process for the correlation of virtual and real-world testing was developed. Further examples and best practices will follow in the coming months."
The working group that produced this best practice includes SAE International, AVL, TÜV SÜD, the International Transportation Innovation Center (ITIC), TNO, Retrospect AV, Beijing Saimo, Mcity, NVIDIA, TalTech, Florida Polytechnic University, Uniquesec, GreenTEC Campus, 3D Mapping Solutions, TÜV Nord, TÜV Rhineland, Humanetics, Virtual Vehicle Research, DLR and Flaming Creations. With of total membership of over 30 organizations, IAMTS is working to advance and develop harmonized test methodologies, testing framework, testbeds and testing tools for certification in support of various global regulatory environments. IAMTS maintains a collaborative spirit to remain open, neutral, global, and agile.
Added John Tintinalli, director of innovation and business development at SAE International, a strategic member of IAMTS: "As a founding member of IAMTS, SAE International is pleased to be a part of this effort to advance the validation of simulation in the testing of Automated Driving Systems (ADS). This is a major step forward for a very important and ongoing global effort."
IAMTS is a global, membership-based alliance of organizations involved in the testing, standardization and certification of advanced mobility systems and services. The alliance works to develop and grow an international portfolio of smart mobility testbeds that meet the highest quality implementation and operational standards.
For more information about IAMTS, including membership, please visit: http://iamts.org or contact info@iamts.org.
SAE Industry Technologies Consortia (SAE ITC®) is an affiliate of SAE International. The SAE ITC team specializes in establishing and managing consortia by providing proven processes, tools and resources. ITC enables public, private, academic and government organizations to connect and collaborate in neutral, pre-competitive forums thus empowering the setting and implementation of strategic business improvements in highly engineered industries globally. http://www.sae-itc.com
###