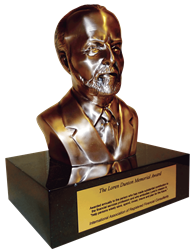 He was a visionary that propelled financial services forward into the professional standards that we use today. Finding like-minded individuals is inspiring...Board of Trustees Chair and CEO, H. Stephen Bailey, MRFC®
MIDDLETOWN, Ohio (PRWEB) July 30, 2019
Generally regarded as the "Father of Financial Planning", Loren Dunton organized financial professionals in the late sixties and with their help created the financial planning movement including the formation of associations, magazines, colleges, university programs and foundations. He was able to use his experiences to frankly explain what all financial advisors now recognize – "that the ethical sales of financial products and the delivery of competent advice is a noble calling." Loren Dunton was a man of vision who cared deeply about both financial advisors and consumers.
In order to fulfill the Dunton Award criteria, nominees must:

Hold a professional designation or credential (i.e. RFC®, MRFC®, ChFC, CFP, CLU, CPA/PFS, CEBS, MSFM, MSFS, or Doctoral degree, etc.)
Have worked in a financial practice or firm more than 5 years.
Have been published on financial topics (articles, journals, books, etc.)
Have provided outstanding service or leadership in the financial services industry.
Have promoted or participated in some aspect of financial education, either to the public or to members of the profession.
Have demonstrated effectiveness in carrying the message of responsible financial stewardship to the public.
Be a member of the IARFC adhering to the IARFC's Code of Ethics and have a sound record of business integrity with no suspension or revocation of any professional license.
Nominations are reviewed by a Selection Committee, voted on and officially announced by the IARFC. The Committee consists of prior Dunton Award Nominees: H. Stephen Bailey, MRFC®, (2010 recipient); Bill Carter, RFC®, (2006 recipient); Ric Edelman, RFC®, (2017 recipient); William Gustafson, Ph.D., (2018 recipient); Jerry W. Mason, (2016 recipient); Rosilyn Overton, MRFC®, (2019 recipient); Jon M. Rogers, MRFC® (2015 recipient).
"I can't think of a higher honor than to bestow this award that celebrates Loren Dunton's commitment to our industry," shared IARFC Board of Trustees Chair and CEO H. Stephen Bailey, MRFC®. "He was a visionary that propelled financial services forward into the professional standards that we use today. Finding like-minded individuals is inspiring."
A nomination form may be downloaded for submission. For additional questions, contact IARFC Team Member Wendy Kennedy, the Selection Committee Liaison. Nominations must be received by September 30, 2019. More information on the Dunton Award can be found on the IARFC website.