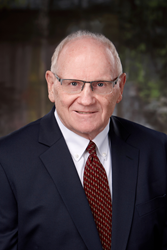 Cohesively, Board members influence the momentum of an association. I hope to be a valued contributor advancing the mission of the IARFC...Fred Ostermeyer, AIF, MRFC.
MIDDLETOWN, Ohio (PRWEB) August 22, 2018
As principal of Managed Resources, LLC, Ostermeyer teams with his wife and office manager Mary and consultant John Baldeck. Fred is licensed to provide advisory services through KMS Financial Services, Inc. - a firm he has been affiliated with for 25 years. They have over 60 combined years of providing investment services to their clients. "This is accomplished without advertising – by referral only," explains Ostermeyer. "It's a trust factor."
One of his major passions is to bring back core financial literacy education in the schools. He feels there has been an alarming reduction in teaching financial responsibility in grades K through 12, as well as at colleges and universities, and is working with State Legislators to reverse this disappointing trend.
This educational commitment is key also when developing a financial plan with clients – by providing the knowledge they need to weigh options and make good decisions. Continuing on the industry professional side, Ostermeyer is an appointed member of the Idaho Department of Insurance continuing education advisory committee which is responsible for reviewing course material to meet continuing education requirements for insurance professionals in the state of Idaho.
"As a longtime member of the IARFC and a newly credentialed Master Registered Financial Consultant (MRFC), I am honored to be part of the Board of Directors," remarked Ostermeyer. "Cohesively, Board Members influence the momentum of any association. I hope to be a valued contributor advancing the mission of the IARFC." He looks forward to working with the Board and IARFC home team on plans for the 2019 Annual Conference in Nashville, TN.
"Fred's commitment to education will be the perfect balance for the Board," relates IARFC Chairman and CEO H. Stephen Bailey, MRFC. "Obviously marketing and membership are key concerns but at the heart of it all is to make ourselves and our clients smarter and wiser. Exploring continuing education opportunities helps our members fulfill our core CE requirements."
When not working, Ostermeyer enjoys exploring the natural beauty of the Pacific Northwest. His current sports interests include playing softball and basketball and participating in Senior Olympics events.
For more information on the Association and the IARFC Board of Directors, visit the IARFC website.