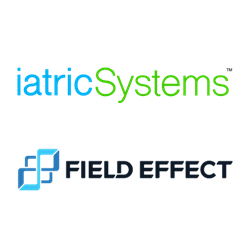 We believe everyone should have access to exceptional cybersecurity, and you shouldn't need deep cybersecurity expertise in order to be protected
DAYTONA BEACH, Fla. (PRWEB) February 16, 2021
iatricSystems, Inc., a healthcare technology company dedicated to helping healthcare organizations enhance their IT investments, recently entered a strategic partnership with Field Effect Software, Inc., to deliver their comprehensive cybersecurity solution, Covalence.
Through this partnership, iatricSystems and Field Effect will work together to address the growing cybersecurity challenges healthcare organizations face in today's climate. Personal health information is extremely valuable on the black market, making hospitals and other healthcare organizations lucrative targets for cyber criminals. The best way to prevent a successful attack is a combination of understanding your network, knowing the threats affecting it, and knowing what to do in response to those threats.
According to research from Abbot, while 91% of hospital administrators considered data security a top focus at the beginning of 2020, 62% felt inadequately trained and/or unprepared to mitigate cyber risks that could impact their hospital.
"We believe everyone should have access to exceptional cybersecurity, and you shouldn't need deep cybersecurity expertise in order to be protected," said Andrew Milne, Chief Revenue Officer of Field Effect. "Our goal is to deliver world-class security with the same sophistication and capabilities, that were once reserved for large governments, to organizations of all sizes, and that's what we do with Covalence."
Covalence is a plug-and-play solution that covers a hospital organization's entire threat surface with advanced monitoring and protection of all networks, devices and cloud-based applications. By partnering with Field Effect, iatricSystems customers also benefit from on-call access to a team of expert analysts who provide support and guidance to further reduce risks and strengthen cybersecurity defenses.
"Today's bad guys are targeting the lowest hanging fruit. And unfortunately, a lot of hospital organizations have security gaps that they don't realize are there until it's too late," Rob Rhodes, Executive Vice President of iatricSystems, stated. "It all comes down to being on the cyber offense, instead of defense. We believe Covalence is a great proactive solution that our customers can add to their healthcare IT security arsenal for all-around peace of mind."
Using comprehensive managed detection to identify threats and potential vulnerabilities, Covalence delivers the information to IT teams as simple, prioritized, actionable reporting, so they know exactly when – and how – to jump into action to eliminate risks and prevent breaches.
The partnership between iatricSystems and Field Effect is another example of their commitment to strengthening cybersecurity efforts to better protect people, patients and organizations as a whole.
About iatricSystems, Inc.
iatricSystems, an independent business unit of Harris Healthcare, is a healthcare technology company dedicated to helping healthcare organizations enhance their IT investments. We do so with our diverse healthcare experience, an extensive partner network, and our proven capabilities in privacy & security, EHR optimization, and interoperability. For 30 years, iatricSystems has delivered solutions to more than 1,300 healthcare organizations and has integrated more than 800 vendor solutions. For more information, contact info@iatric.com or visit http://www.iatric.com. Connect with iatricSystems on Twitter, Facebook, and LinkedIn.
About Field Effect Software, Inc.
Field Effect believes organizations of all sizes deserve powerful cyber security solutions to protect them. The company's threat detection, monitoring, training and compliance products and services are the results of years of research and development by the brightest talents in the cyber security industry. For more information, visit http://www.fieldeffect.com.