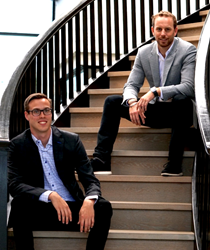 iBank wants you to be friends with your money
COSTA MESA, Calif. (PRWEB) March 16, 2021
The founders of iBank, the new money management, sharing and social solution, have announced that its app is available for free until the end of April 2021 as part of its launch celebration. After the free offer expires the app will be available for a monthly fee of $4.99 per month.
The iBank app makes it easier than ever before to share expenses and experiences with friends. Users of the fintech app gain a single view of their bank and credit card balances while also tagging people and photos to transactions, and planning and budgeting for adventures.
"Most people find managing their money to be a chore. We set out to make it fun and engaging and something to look forward to," said Trey Markel, Founder & CEO of iBank. "iBank consolidates the crazy number of apps people use to move their money around and plan and budget day to day. It also adds a layer of socially-inspired features that replicate how people interact with each other and think about their money."
iBank applies a new millennial-focused mindset to financial management technology. The app helps users plan and share the expenses associated with adventures and experiences. This extends through to tagging transactions and adding images to transform financial statements into living stories. The functionality of the app, including its single look interface for multiplex financial accounts, sets a new standard for simplicity. The team behind iBank's UI/UX have previously worked on a series of industry-leading fintech apps.
Users can download the app in the iOS store. An Android version of the app will be available over the coming months.