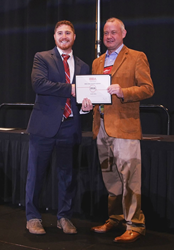 TYSONS CORNER, Va. (PRWEB) June 13, 2019
Horizon Business Brokers Principal Broker and Founder Dustin Zeher, CBI was the recipient of two awards presented by the International Business Brokers Association (IBBA) during its annual conference in Orlando, Florida on May 11th including the Chairman's Circle Award for closing one or more deals amounting to $3 million or more in total purchase price and the Deal Maker Award for selling at least 10 qualified businesses during the 2018 calendar year.
"I'm delighted to have received these awards from the IBBA and it's a testament to the hard work of the entire Horizon team over the past year. We strive to provide our clients with the highest level of service in our industry. This recognition is a culmination of those efforts and indicative of that on-going commitment," said Dustin Zeher.
"As the largest international association for business brokers, it's important for the IBBA to recognize individuals like Dustin who are leaders in this industry and who display the high standards of skill and excellence that the IBBA promotes," stated Jeffrey Snell, IBBA Board Chair.
The IBBA is the world's premier organization operating exclusively for professionals and firms engaged in business brokerage. The Member Excellence Awards Gala that the IBBA puts on during their annual conference gives winners the recognition they deserve for their achievements, while also giving their IBBA colleagues the opportunity to engage with them and learn from their experience.
About Horizon Business Brokers
Horizon Business Brokers was founded by Dustin Zeher in 2006 to connect potential buyers and sellers of businesses. Over the years the firm has steadily grown and now averages over 30 closed transactions each year with offices in DC, Maryland, and Virginia to better serve clients across the entire Mid-Atlantic region.
About the International Business Brokers Association
The IBBA provides business brokers with education, conferences, professional designations and networking opportunities. As an exclusive education opportunity, it offers coursework and seminars required to obtain its prestigious Certified Business Intermediary (CBI) certification. The IBBA also strives to create professional relationships with successful business transaction advisors to increase the value of the IBBA to its members and to be a leader in the exchange of business referrals. Membership in the IBBA includes these excellent networking opportunities, as well as a complete package of other benefits and services.