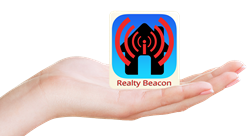 iBeacons are going to have a profound impact in real estate marketing.
Louisville, KY (PRWEB) May 08, 2014
iBeacons are small Bluetooth devices that transmit data up to 100' or more. Realty Beacons are waterproof iBeacons that magnetically attach to any real estate sign. With the free Realty Beacon iPhone App, buyers can now view listing info & photos from the comfort of their car. They simply open the app and the listing displays automatically. No typing, dialing, scanning, or searching required.
Priced at $29, each Realty Beacon includes an "iBeacon House" sign to tell buyers about the free app. Agents manage their beacons from a $10/mo login account which provides service to all of the beacons they own. Realty Beacons are powered by replaceable batteries and can be reused from one listing to the next. To link a beacon to a new listing, the agent simply uses their login account to update the MLS number for each beacon.
Ever since Apple subtly announced iBeacon technology at the World Wide Developer Conference 10 months ago, developers, engineers and entrepreneurs have been racing to bring products to the market. To engage fans through their At the Ballpark app, Major League Baseball has installed thousands of iBeacons in 20 stadiums across the nation this season. Most major retailers have begun testing the technology. A quick Internet search for iBeacon News reveals thousands of articles about the new technology.
Leading experts predict a paradigm shift as iBeacons begin to play an important role in the Internet of Things (IoT) movement that will ultimately connect even the most ordinary items to the Internet. Many are saying that iBeacons will be the biggest innovation to affect the consumer experience since the invention of the smartphone.
Inman News recently reported that over half of the 91.6 million unique visitors to all real estate sites in March were using mobile devices. According to a recent Realtor's survey, 85 percent of buyers used a mobile device during the home buying process.
Every real estate agent understands the importance of mobile, yet most have been unable to tap into this essential technology. RealtyBeacon.com now provides a powerful mobile marketing platform that any agent can afford.
About RealtyBeacon.com
RealtyBeacon.com is the first company to develop a comprehensive iBeacon platform for the real estate industry. The program includes waterproof magnetic Realty Beacons that attach to any yard sign, the Realty Beacon App which is free for anyone to download from the iTunes App Store, free signs to tell buyers that the property is Realty Beacon enabled, and the back end cloud-link service which directs each beacon to the specific online listing.