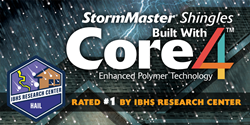 "We're thrilled that StormMaster® Shake outranked the competition. The secret is in our Core4™ Enhanced Polymer Technology — the most innovative development in asphalt shingle manufacturing today." —Paul Casseri, product manager, Atlas Roofing
ATLANTA (PRWEB) January 28, 2020
Atlas Roofing is excited to announce that its StormMaster® Shake shingles exceed leading competitor brands for hail impact. The performance rating is based on 2019 results from a new test standard for impact resistance developed by the Insurance Institute for Business & Home Safety (IBHS).
Severe weather can displace families, disrupting their lives and impacting finances. To prevent these avoidable issues, IBHS conducts top-tier scientific research, the results of which help manufacturers engineer better materials, ultimately saving both the insurance industry and homeowners significant time and money.
The IBHS impact-resistance rating factors in how well shingles hold up to specific damage caused by hail. Out of the 10 products tested, Atlas StormMaster® Shake shingles received a good rating for dents/ridges and an excellent rating for tears and granule loss. In addition, StormMaster® Shake is the only product to receive an excellent overall rating.
"We're thrilled that StormMaster® Shake outranked the competition," says Paul Casseri, product manager for Atlas Roofing. "The secret is in our Core4™ Enhanced Polymer Technology — the most innovative development in asphalt shingle manufacturing today. StormMaster® shingles are unmatched by all other products currently on the market."
IBHS tests replicate real-world conditions on a variety of widely purchased shingles labeled as "impact resistant."
"Hail causes billions of dollars in property damage every year," explains Tanya Giammanco, managing director of research for IBHS. "Consumers deserve to have confidence that shingles labeled as impact resistant live up to expectations.
"Our research serves to empower manufacturers to develop better products."
Built-In Technology
Atlas StormMaster® Shake shingles with Core4™ are made with enhanced virgin polymers that help to create an extremely durable shingle.
Core4™ consists of these four features:

"We've been investing in and researching asphalt polymer technology for nearly 30 years," says Stan Bastek, national sales director for Atlas Roofing. "We continue to improve our manufacturing process, always striving to provide consumers with the highest-quality, longest-lasting products on the market."
StormMaster® Shake shingles are UL 2218 Class 4 Impact rated and come with the highest wind warranty in the industry — up to 150 mph (with six-nail application). They also feature the power of Scotchgard™ Protector, which prevents the ugly black streaks caused by algae. So StormMaster® Shake shingles not only protect a home from the elements, they preserve its curb appeal too.
To learn about IBHS, its research center and how it determines its hail impact ratings, visit IBHS.org. For more information about StormMaster® Shake shingles, visit AtlasRoofing.com.
About IBHS
The Insurance Institute for Business & Home Safety (IBHS) is an independent, nonprofit, scientific research and communications organization supported solely by property insurers and reinsurers. IBHS's building safety research leads to real-world solutions for home and business owners, helping to create more resilient communities.
About Atlas Roofing
Atlas Roofing Corporation is an innovative, customer-oriented manufacturer of residential and commercial building materials. Atlas has grown from a single shingle-manufacturing plant into an industry leader with 24 facilities across North America. For more information, visit AtlasRoofing.com. Stay connected with us on Facebook, Twitter and YouTube.