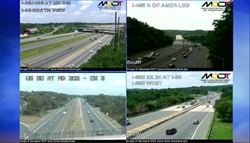 "[Vizzion's cameras] really help tell a more thorough, real-time and visual traffic report which audiences crave."
NORTH VANCOUVER, British Columbia (PRWEB) August 13, 2020
Vizzion, provider of the largest traffic camera network in the world, is pleased to announce a new partnership with The Weather Company, an IBM Business, to integrate traffic camera imagery, streams, and data into its Max Traffic broadcast solution. Through the partnership, Max Traffic customers are able to use imagery and video feeds from Vizzion's US and Canada camera network in broadcast traffic and weather reports, boosting viewer engagement and giving audiences a live, hyper-local look at road conditions.
Research has shown that 83% of television news viewers watch the morning news for traffic, providing broadcasters an opportunity to showcase their content and start their audience's day off right. In addition, 59% of traffic viewers want their traffic content delivered in the context of an integrated weather and traffic report.[1]
Featuring enterprise-grade visualization capabilities, The Weather Company's Max Traffic solution uses IBM's advanced forecasting weather models to deliver reports that are informative and aesthetically appealing. Eye-catching graphics, streaming cameras, and data visualization tools for information such as drive times make the solution accessible to broadcasters across the United States and Canada. The solution's publishing functions allow users to distribute content quickly and easily to social media, mobile devices, and the web. "Max Traffic is one of the most feature-heavy and powerful traffic and weather solutions available today," said Sean Beaudoin, Account Manager for Vizzion. "We're looking forward to bringing traffic and weather to life with our cameras."
Vizzion's camera imagery and streams add a new level of functionality to The Weather Company's Max Traffic solution. With cameras in over 600 global markets, Max Traffic users have the ability to add local camera feeds to their traffic reports. Users are also able to show up to four cameras at once as well as cycle through user-selected groups of cameras to make traffic reports smooth and free of interruptions. Vizzion's robust XML Web Service delivers imagery that is consistent between providers, regions, and formats, allowing cameras from multiple agencies to be displayed seamlessly. Through their automated camera monitoring technologies, Vizzion is also able to preemptively check and filter out-of-service cameras before they go to air, ensuring that broadcasters don't have to worry about stale or unavailable imagery.
"We are excited to be partnering with Vizzion since it gives our clients the ability to demonstrate how weather is impacting traffic by overlaying live video with near real-time weather conditions such as storms, snow and general visibility," said Bill Dow, Head of Media Weather Solutions for The Weather Company. "Our clients can easily tell both a weather and traffic story. They could also build captivating presentations that feature weather and traffic maps, full-screen coverage and commuter drive times without switching interfaces or sources during hits. It really helps tell a more thorough, real-time and visual traffic report which audiences crave."
For more information about The Weather Company, an IBM Business, visit https://newsroom.ibm.com/the-weather-company. For more on IBM, visit IBM.com.
[1]"Television Traffic Viewers," CJ&N Research, January 2020. The performance data and client examples cited are presented for illustrative purposes only. Actual performance results may vary depending on specific configurations and operating conditions.
About Vizzion
Vizzion is the leading traffic camera supplier for traffic and weather applications and operations centers. Through partnerships with over 200 different transport agencies worldwide, Vizzion offers live feeds from over 64,000 roadside cameras in 43 countries across North America, Europe, Asia, Australasia, and key markets in South America and Africa. The service is available through a flexible XML Web Service and turnkey Desktop Video Wall software. Vizzion's content is trusted by major digital, broadcast, traffic, fleet, and automotive organizations.