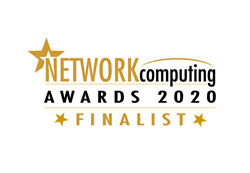 "As a Network Computing Awards finalist, it is an honor to be part of the community that is valued and trusted by leaders in the cybersecurity field."
BOSTON (PRWEB) February 06, 2020
iboss, the leader in cloud delivered network security, was named a finalist today in the Cloud Delivered Security Solution of the Year category in the 2020 Network Computing Awards.
Network Computing is the UK's longest established magazine dedicated to network management. The magazine aims to lead the debate, understand the challenges, examine the hype and communicate best practice associated with all aspects of running a network. The service that Network Computing provides for both end users and suppliers has been enhanced further with the launch of the Network Computing Awards. Each year these awards are run using a reader-voting model to determine the results. This provides valuable guidance about which products, services and companies have made a positive impact.
The finalist nomination in the Cloud Delivered Security Solution of the Year category provides an overall insight of the essential service and solution the iboss cloud platform provides to its customers. iboss secures Internet access on any device, from any location, in the cloud for over 4,000 organizations worldwide. The iboss cloud is the easiest path to transition network security from network security appliances to Security as a Service, delivered in the cloud. With an extensive feature-set required by the most demanding enterprises, only iboss cloud can transition all of the capabilities found in traditional web gateway proxies and network firewall appliances to the cloud. And with its unique patented containerized cloud architecture, found in no other vendor, iboss cloud can ensure a smoother and more seamless transition to the cloud than any other cloud security vendor on the market.
"Network Computing is respected by security leaders who are responsible for purchasing products and testing solutions," said Paul Martini, iboss Co-founder and CEO. "As a Network Computing Awards finalist, it is an honor to be part of the community that is valued and trusted by leaders in the cybersecurity field."
The Network Computing Award winners will be announced on April 02, 2020 at the Leonardo Royal Hotel in London City. Vote for the Network Computing Award finalists here: http://www.networkcomputingawards.co.uk/. Voting closes on March 24, 2020.
About iboss
iboss is a cloud security company that provides organizations and their employees secure access to the Internet on any device, from any location, in the cloud. The iboss cloud platform provides network security as a service, delivered in the cloud, as a complete SaaS offering. This eliminates the need for traditional network security appliances, such as firewalls and web gateway proxies, which are ineffective at protecting a cloud-first and mobile world. Leveraging a purpose-built cloud architecture backed by over 190 issued and pending patents and more than 100 points of presence globally, iboss protects more than 4,000 organizations worldwide. To learn more, visit http://www.iboss.com.