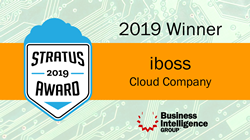 "We are proud to be honored with the 2019 Stratus Leading Cloud Company Award," Paul Martini, CEO continued. "Providing fast and secure connections to cloud applications from anywhere will drive cloud adoption and enable organizations to compete in a cloud-first and mobile world."
BOSTON (PRWEB) October 03, 2019
Today the Business Intelligence Group announced iboss as the award recipient for leading Cloud Company in the 2019 Stratus Awards for Cloud Computing. The Stratus Awards recognize those companies and individuals innovating in the Cloud and providing offerings that are truly differentiated in the market.
The iboss cloud platform changes the way cloud security is delivered, allowing organizations to migrate from traditional network security appliances to security delivered in the cloud. With mobility, cloud application use and bandwidth use exponentially increasing by the day, using traditional means to secure cloud connectivity with appliances is ineffective as the traditional network perimeter has eroded. The iboss platform is critical to ensure fast and secure connections to cloud applications and enable cloud adoption in a secure and scalable way. The iboss cloud secures Internet access on any device, from any location, in the cloud making the cloud-first future a reality.
"iboss focused on creating a cloud security platform that provides a roadmap that is sustainable for decades into the future," said Paul Martini, CEO. "Organizations can apply the security they require, directly in the cloud, and not worry about infrastructure, bandwidth growth, or mobility as the iboss platform delivers security as a service and abstracts all of the complexities typically required to ensure fast and secure connections to cloud applications."
"iboss is at the forefront of the cloud helping to drive practical innovations in the cloud," said Maria Jimenez, Chief Nominations Officer of Business Intelligence Group. "The cloud is now part of the fabric of our personal and professional lives and we are thrilled that our volunteer judges were able to help promote all of these innovative services, organizations and executives."
"We are proud to be honored with the 2019 Stratus Leading Cloud Company Award," Paul Martini, CEO continued. "Providing fast and secure connections to cloud applications from anywhere will drive cloud adoption and enable organizations to compete in a cloud-first and mobile world."
The architecture of the iboss cloud is fundamentally different from conventional appliance-based and conventional cloud gateway architectures. iboss has received many recent accolades including:

JMP Elite 80
Cloud Security Leader, Cyber Defense Magazine InfoSec Awards
Cloud Security Product of the Year – Large Enterprises, Computing's Cloud Excellence Awards
Cloud Security Innovation, The Golden Bridge Awards
Cloud Security Award Winner, IT World Awards
Largest Cybersecurity Companies in MA, Boston Business Journal
Top Five Leaders in Cybersecurity, Industry Leaders
Secure Web Gateway Solution of the Year, Cybersecurity Breakthrough Awards
About iboss
iboss is a cloud security company that provides organizations and their employees secure access to the Internet on any device, from any location, in the cloud. This eliminates the need for traditional security appliances, which are ineffective at protecting a cloud-first and mobile world. Leveraging a purpose-built cloud architecture backed by over 100 patents and more than 100 points of presence globally, iboss protects more than 4,000 organizations worldwide. To learn more, visit http://www.iboss.com.
About Business Intelligence Group
The Business Intelligence Group was founded with the mission of recognizing true talent and superior performance in the business world. Unlike other industry and business award programs, business executives—those with experience and knowledge—judge the programs. The organization's proprietary and unique scoring system selectively measures performance across multiple business domains and then rewards those companies whose achievements stand above those of their peers.