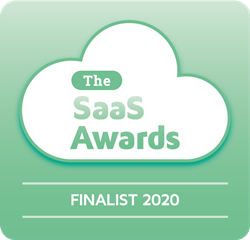 "The iboss cloud platform allows users to connect directly to cloud applications without needing to send those connections through bottlenecked office connections reducing infrastructure costs and increasing user productivity resulting from fast and secure connections."
BOSTON (PRWEB) August 04, 2020
iboss, the leader in cloud delivered network security, today announced that is has been named a finalist in the 2020 SaaS Awards for Best Security Innovation in a SaaS Product.
Now in its fifth year of celebrating software innovation, the Software-as-a-Service Awards program accepts entries worldwide, including the US, Canada, Australasia, EMEA and UK. The program strives to represent software innovation and diversity from all of these regions, and more.
The SaaS Awards program celebrates the brightest and the best in Cloud Computing. Any SaaS solution is eligible: the SaaS Awards recognizes SaaS solutions across public clouds, as well as alongside private, single-tenant solutions, off-premise or on-premise.
iboss provides network security as a service, delivered in the cloud, as a complete SaaS offering to ensure fast and secure Internet access on any device, from any location, in the cloud. Built on a proprietary containerized architecture designed 100% for the cloud, iboss is the only vendor on the market that can transition all of the security capabilities found in traditional web gateway proxies and network firewall appliances to the cloud. iboss secures network traffic from anywhere with elastic and instant scaling to meet the demands of the cloud-first future. Users are always connected to iboss cloud, regardless of device or location, to ensure all Internet traffic is secured for compliance, web filtering, malware defense and data loss at all times.
"We are honored to be named a finalist in the 2020 SaaS Awards," said Paul Martini, iboss Co-founder and CEO. "The need to work from home or outside of the office is the new reality. The iboss cloud platform allows users to connect directly to cloud applications without needing to send those connections through bottlenecked office connections reducing infrastructure costs and increasing user productivity resulting from fast and secure connections."
Head of operations for the SaaS Awards, James Williams said, "Software-as-a-Service's force for positive disruption never seems to abate, with seemingly unending solutions for modern business." Williams added, "This year is of course a special case, with SaaS not only at the forefront of remodelling existing business processes, but also agilely responding with pioneering solutions to unavoidable global disruptions. Indeed, SaaS technologies are now celebrated as providing new and inventive ways for organizations to perform what might have once seemed simple tasks in a changing international landscape. From fulfilling orders to arranging meetings, SaaS technologies are more important than ever."
Final SaaS Awards winners will be announced on Tuesday 25 August 2020 and the program will return in Spring 2021. Hundreds of organizations entered, with international entries coming from North America, Canada, Australia, UK, Europe and the Middle East. To view the full shortlist, please visit: https://www.cloud-awards.com/2020-software-awards-shortlist/.
A sister program to the SaaS Awards, The Cloud Awards, will soon accept submissions for a new 2020-21 program, continuing its recognition of excellence in cloud computing, with a final October deadline.
About the SaaS Awards
The SaaS Awards is a sister program to the Cloud Awards, which was founded in 2011. The SaaS Awards focuses on recognizing excellence and innovation in software solutions. Categories range from Best Enterprise-Level SaaS to Best UX or UI Design in a SaaS Product.
About the Cloud Awards
The Cloud Awards is an international program which has been recognizing and honoring industry leaders, innovators and organizational transformation in cloud computing since 2011. The awards are open to large, small, established and start-up organizations from across the entire globe, with an aim to find and celebrate the pioneers who will shape the future of the Cloud as we move into 2021 and beyond. Categories include the Software as a Service award, Most Promising Start-Up, and "Best in Mobile" Cloud Solution.
Finalists are selected by a judging panel of international industry experts. For more information about the Cloud Awards and SaaS Awards, please visit https://www.cloud-awards.com/.
About iboss
iboss is a cloud security company that provides organizations and their employees fast and secure access to the Internet on any device, from any location, in the cloud. The iboss cloud platform provides network security as a service, delivered in the cloud, as a complete SaaS offering. This eliminates the need for traditional network security appliances, such as firewalls and web gateway proxies, which are ineffective at protecting a cloud-first and mobile world. Leveraging a purpose-built cloud architecture backed by over 190 issued and pending patents and more than 100 points of presence globally, iboss protects more than 4,000 organizations worldwide. To learn more, visit https://www.iboss.com/.