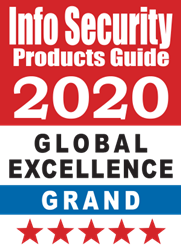 "Behind this distinguished success is our relentless drive to stay customer focused. We believe this recognition from Info Security Products Guide further validates our commitment to our customers and their security needs."
BOSTON (PRWEB) February 26, 2020
iboss, the leader in cloud delivered network security, announced today that Info Security Products Guide, the industry's leading information security research and advisory guide, has named iboss, a winner in the 16th Annual 2020 Info Security PG's Global Excellence Awards® in nine categories, including the coveted Grand Trophy award. iboss proves its industry-leading cloud security platform by earning Info Security Products Guide's top award as Grand Trophy Winner in addition to four gold awards, two silver awards, and two bronze awards:
Gold Awards

Most Innovative Enterprise Security
Secure Web Gateways
Cloud Network Security
Mobile Security
Silver Awards

Company of the Year Security Cloud/SaaS
Most Innovative Cloud Security
Bronze Awards

Best Security Solution
Cloud Security Solution
The Global Excellence Awards recognize cybersecurity and information technology vendors with advanced, ground-breaking products, solutions, and services that are helping set the bar higher for others in all areas of security and technologies.
iboss redefines the cybersecurity landscape with its cutting-edge technology and unique patented containerized cloud architecture to ensure a smoother and more seamless transition to the cloud than any other security vendor on the market. iboss secures Internet access on any device, from any location, in the cloud. Built 100% for the cloud, iboss delivers Network Security as a Service, in the cloud, to ensure all Internet traffic is secured for compliance, web filtering, malware defense and data loss at all times. With its patented containerized cloud architecture, only iboss cloud can transition all capabilities found in traditional web gateway proxies and network firewall appliances to the cloud. iboss meets the demands of the cloud-first future by solving problems of user mobility and exponential bandwidth growth due to applications moving to the cloud by leveraging the cloud to deliver infinite capacity for Internet security. This allows infinite bandwidth growth, infinite encrypted traffic inspection, infinite mobility and infinite cloud application use while eliminating the need for network administrators to worry about infrastructure and re-focus their time and energy on the thing that matters most, security.
"We are proud to be recognized as an industry player whose advanced solution has been declared as a winner by Info Security Products Guide," said Paul Martini, iboss Co-founder and CEO. "Behind this distinguished success is our relentless drive to stay customer focused. We believe this recognition from Info Security Products Guide further validates our commitment to our customers and their security needs."
More than 35 judges from around the world representing a wide spectrum of industry experts participated in the judging process.
The recognition from the Info Security Products Guide's Global Excellence Awards adds to iboss's award-winning platform. In 2019, iboss was one the most awarded cloud security companies of the year. iboss continues to affirm their spot in the cybersecurity industry with recent accolades earned in 2020:
Cloud Security Excellence Award, TMC Cloud Computing Security Excellence Awards 
Most Innovative Cybersecurity Company, Gold Winner, Cybersecurity Excellence Awards 
Network Security, Gold Winner, Cybersecurity Excellence Awards 
Ransomware Protection, Gold Winner, Cybersecurity Excellence Awards 
Azure Cloud Security, Gold Winner, Cybersecurity Excellence Awards 
Mobile Security, Gold Winner, Cybersecurity Excellence Awards 
Editor's Choice Security Company of the Year, Cyber Defense Magazine InfoSec Awards
Market Leader Anti-malware, Cyber Defense Magazine InfoSec Awards
Market Leader SaaS/Cloud Security, Cyber Defense Magazine InfoSec Awards
Most Innovative Enterprise Security, Cyber Defense Magazine InfoSec Awards
About Info Security PG's Global Excellence Awards
Info Security Products Guide sponsors the Global Excellence Awards and plays a vital role in keeping end-users informed of the choices they can make when it comes to protecting their digital resources and assets. It is written expressly for those who are adamant on staying informed of security threats and the preventive measure they can take. You will discover a wealth of information in this guide including tomorrow's technology today, best deployment scenarios, people and technologies shaping cyber security and industry predictions & directions that facilitate in making the most pertinent security decisions. Visit http://www.infosecurityproductsguide.com for the complete list of winners.
About iboss
iboss is a cloud security company that provides organizations and their employees secure access to the Internet on any device, from any location, in the cloud. The iboss cloud platform provides network security as a service, delivered in the cloud, as a complete SaaS offering. This eliminates the need for traditional network security appliances, such as firewalls and web gateway proxies, which are ineffective at protecting a cloud-first and mobile world. Leveraging a purpose-built cloud architecture backed by over 190 issued and pending patents and more than 100 points of presence globally, iboss protects more than 4,000 organizations worldwide. To learn more, visit http://www.iboss.com.