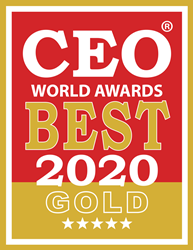 BOSTON (PRWEB) September 03, 2020
iboss, the leader in cloud delivered network security, announced today that CEO World Awards®, world's top C-Level and executive achievement awards program, has named iboss a Gold winner in two categories in the 8th Annual 2020 CEO World Awards.
CEO World Awards celebrate the achievements of leaders, executives, and their management teams behind the year's most outstanding initiatives and achievements. Chief Executive Officers also known as CEO lead the development of the organization's short- and long-term strategy. This annual awards program recognizes individuals and teams who set industry benchmarks for excellence. All organizations private or public, corporations, nonprofits, associations, vendors and government organizations worldwide are eligible to enter.
The iboss cloud changes the way cloud security is delivered, allowing organizations to migrate from traditional network security appliances to security delivered in the cloud. iboss shifts the focus from following perimeters to following users so that consistent cloud security is applied while users are in the office, on the road, or at home. Cloud application use and bandwidth use are exponentially increasing by the day due to the distributed workforce that was accelerated by the global COVID-19 pandemic. With remote workers, using traditional means to secure cloud connectivity with appliances is ineffective as the traditional network perimeter has eroded.
The iboss cloud platform allows organizations to offload network data generated by remote workers by protecting those connections to cloud applications directly in the cloud. This network data is typically backhauled through VPNs to the corporate network, which results in overwhelmed infrastructure and bottlenecked throughput leading to massive productivity loss as remote workers rely on fast connections to meeting apps and online applications. The iboss platform is critical to ensure fast and secure connections to cloud applications reducing infrastructure costs and vastly improving network speeds to all cloud resources for remote workers. The iboss cloud secures user Internet access on any device, from any location, in the cloud making the cloud-first future a reality.
Judges from a broad spectrum of industry voices from around the world participated and their average scores determined the 2020 award winners.
iboss was recognized as a Gold Award Winner in the following categories: Company of the Year - Security Cloud/SaaS and Best Deployment & Customer Success of the Year.
As the most comprehensive, unified implementation of SASE in the market today, iboss's award-winning platform is backed by outstanding leadership that continues to innovate and enhance security for the evolving workforce landscape. iboss's Co-founder, CEO and Chief Architect, Paul Martini, holds over 150 issued patents in cloud, cybersecurity, networking and technology. The 2020 CEO World Awards adds to his ground-breaking achievements that have greatly impacted the cybersecurity industry.
"It is an honor to be named a winner by CEO World Awards for this esteemed industry and peer recognition," said Paul Martini, iboss Co-founder and CEO. "The need to work from home or outside of the office is the new reality and work cannot be completed without fast and secure connections to cloud applications. The iboss cloud platform eliminates the need to send connections from workers outside of the office back through the office by allowing security for those connections to be processed in the cloud. This instantly converts slow connections which result in a poor end-user experience and low productivity to ultrafast direct to cloud connectivity."
Winners will be celebrated and presented their awards during a virtual awards ceremony in November. For a complete list of the 2020 CEO World Award winners announced today, visit https://ceoworldawards.com/winners/2020-business-awards-winners/.
About the CEO World Awards
CEO World Awards are an annual industry and peers recognition program honoring CEOs, executives, entrepreneurs, innovators and their management teams from organizations in every industry and of every size in Asia, Australia and New Zealand, Canada and the USA, Europe, Mexico, the Caribbean & Central and South America, Middle East and Africa. The Annual CEO World Awards is part of the SVUS Awards® recognition program from Silicon Valley in the United States of America. The coveted annual CEO World Awards program encompasses the world's best in leadership, innovation, organizational performance, new products and services, excellence studies, corporate social responsibility, and milestones from every major industry in the world. Organizations from all over the world are eligible to submit nominations including public and private, for-profit and non-profit, largest to smallest and new start-ups. Learn more about the CEO World Awards at https://ceoworldawards.com/.
About the SVUS Awards
SVUS Awards are conferred in eleven programs: the CEO World Awards®, the Consumer World Awards®, The Customer Sales & Service World Awards®, The Globee® Awards, the Golden Bridge Awards®, the Info Security Products Guide's Global Excellence Awards® and Security World Awards, the Network Products Guide's IT World Awards®, One Planet® American + World Business Awards, the Pillar World Awards®, the PR World Awards® for Public Relations and Communications, and the Women World Awards®. Honoring organizations of all types and sizes and the people behind them, the SVUS Awards recognize outstanding achievements and performances in businesses worldwide. Learn more about the SVUS Awards at https://svusawards.com/.
About iboss
iboss is a cloud security company that provides organizations and their employees fast and secure access to the Internet on any device, from any location, in the cloud. The iboss cloud platform provides network security as a service, delivered in the cloud, as a complete SaaS offering. This eliminates the need for traditional network security appliances, such as firewalls and web gateway proxies, which are ineffective at protecting a cloud-first and mobile world. Leveraging a purpose-built cloud architecture backed by over 190 issued and pending patents and more than 100 points of presence globally, iboss protects more than 4,000 organizations worldwide. To learn more, visit https://www.iboss.com/.