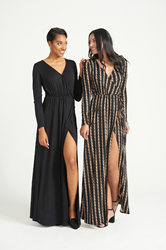 "This is the type of business that could never survive before ecommerce. There simply aren't enough 6'3" women in any town or city to support a physical store. Yet online, we find thousands of customers throughout the US and 30% of our sales are international."
COSTA MESA, Calif. (PRWEB) November 15, 2019
IBrands Global announced they have taken over operations of Alloy Apparel, an iconic fashion brand thoughtfully catering to tall and curvy woman, in a deal that also gave IBrands partial ownership to the brand's intellectual property. Founded in 1996, Alloy became a household name for its expansive junior trend-focused catalog; however, over time, the brand narrowed its focus on Tall after discovering the potential of the vastly underserved demographic.
IBrands will bring a myriad of design and operational expertise to the Alloy partnership. Having recently entered into a similar arrangement with the original founders of Juicy Couture for the LA-centric brand, Pam & Gela, IBrands is looking to elevate and expand the Alloy collection in 2020.
Alloy Apparel is exclusively sold on its website (http://www.alloyapparel.com). Targeting the Tall woman online highlights the advantages of pinpoint digital marketing and micro-targeting. "We live in a country with over 150 million women, but the addressable market for a woman 5'9" to say 6"9" is a tiny fraction." Marc Garson, Chairman of IBrands explains. "This is the type of business that could never survive before ecommerce. There simply aren't enough 6'3" women in any town or city to support a physical store. Yet online, we find thousands of customers throughout the US and 30% of our sales are international."
Still, targeting Tall women with digital advertising has its challenges. Google and Facebook, who collectively control nearly 60% of digital advertising market share, have no direct way to target Tall women like they can with other demographic and interest information. To help the effort, Alloy created and manages the popular Instagram handle @TallGirlHumor where fun content that appeals to Tall women can be found and shared. "We look at Instagram as today's version of the magazine," explains IBrands CEO, Remy Garson. "People come to TallGirlHumor for valuable and engaging content relevant to Tall women, which happens to be our target customer. Whereas a magazine would charge advertisers to reach our niche audience, we simply direct that traffic to Alloy." 
For Fall 2019, the first collection Alloy Apparel released in collaboration with IBrands Global offers everyday styles such as tops, bodysuits, denim, pants, jumpsuits, dresses, blazers, knits, and loungewear. Their retail price ranges from $30 to $80, further reinforcing the value of accessibility for their customers. Aside from Alloy Apparel's primary Tall collection, the brand has made deliberate strides in delivering size inclusivity with the launch of Alloy Tall Plus and Alloy Plus in Spring 2018 where sizes range from 2-24.
About IBrands:
IBrands is a diversified company with a portfolio of brands, licenses, and fashion tech products for the apparel, accessories, travel and health & wellness industries. They design, manufacture and sell sportswear, denim, outerwear, handbags, luggage, accessories and wellness products online and in stores.
About Alloy Apparel:
Alloy Apparel empowers all Tall Women across the world to love their height and feel confident in their own skin. Tall comes in all shapes and sizes and Alloy is proud to offer the latest trends in long inseams and larger size options! Alloy is also known for its superior quality pants and stylish denim at affordable prices. They encourage women to celebrate their long legs, embrace their curves!