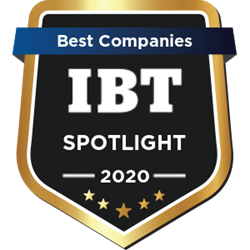 Spotlight eliminates the hassle of finding trusted vendors
NEW YORK (PRWEB) September 16, 2020
International Business Times (IBTimes.com), the global business news leader, has launched Spotlight to help businesses navigate the myriad of vendor options and make informed decisions about choosing the best providers for their needs locally.
There's no shortage of business-service providers. The SBA estimates that there are more than 30 million in the United States alone.
"We demystify and take the guesswork out of an often complicated and opaque process," said Mel Gray, IBTimes U.S. managing editor. "Spotlight eliminates the hassle of finding trusted vendors and allows businesses to focus on what they do best."
The IBTimes editorial and data teams collaborate to serve small and medium sized business-service providers. Spotlight rankings combine a number of data-signals with the expert opinion of our editors to shine the "spotlight" on segment leaders across industries and in major metropolitan areas across the world.
Spotlight is initially focusing on top-performing companies across 14 industries:
B2B marketing
Business process outsourcing services
Call centers
Custom software development
Event marketing
Financial consulting
Human resources consulting
IT
Mobile app development
PR
SEO
Translation services
Video production
Web design
"We will soon announce more Spotlight companies across additional industries," said Johnathan Davis, CEO of IBT Media which publishes IBTimes. "With our full-suite of advertising and targeting tools, we'll help service providers of all stripes connect with other businesses seeking trusted partners."
Full results to the 2020 Spotlight awards can be viewed at the official website:
http://www.ibtimes.com/spotlight
About IBT
IBT Media is a fast-growing global digital news organization delivering news and insight to more than 30 million monthly readers across the world. IBT Media engages a new generation of readers with content that speaks to their interests, analysis that serves their businesses and makes sense of a globally connected world.
Licensing and Business Inquiries:
Brian Kolb
licensing@ibt.com
Media Contact:
Ken Frydman
ken@sourcecommunications.net
917-626-4270