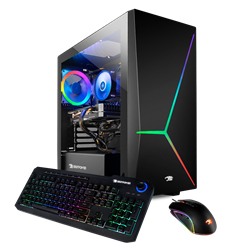 LOS ANGELES (PRWEB) August 04, 2020
iBUYPOWER, a leading manufacturer of custom gaming PCs, today announced its all new Slate9050W prebuilt gaming system, available exclusively on Walmart.com and in Walmart stores across the United States.
Armed with an Intel™ Core i5 9400F CPU and an NVIDIA GeForce® GTX 1660 SUPER™ 6GB graphics card the Slate9050W gaming PC will provide users looking for a new gaming rig with the efficiency and frame rates needed to dominate in the latest battle royal games. With a 240GB SATA solid state drive and a 1TB hard drive, the Slate9050W provides ample storage space for game files and streaming clips without creating a bottle neck in the system.
Housed in iBUYPOWER's latest Slate 4 case, featuring an RGB lit front panel and a tempered glass side panel, the Walmart exclusive Slate9050W provides gamers with a quintessential option for an affordable and aesthetically pleasing prebuilt gaming PC. To ensure the system runs cool during long hours of gameplay, the Slate9050W comes equipped with a standard Intel CPU air cooler and four 120mm addressable RGB (ARGB) fans, one at the rear for exhaust and three mounted to the front, side of the system.
The Slate9050W comes plug-and-play ready with Windows 10 Home preinstalled and ready for user configuration. In addition, iBUYPOWER has included an RGB Gaming Keyboard with dedicated multimedia keys and a 10 million keystroke life cycle as well as an iBUYPOWER gaming mouse.
Pricing and Availability  
The Walmart exclusive Slate9050W is available now on Walmart.com online and in select Walmart stores across the United States for a starting MSRP of $799.00USD. Prices may vary, see stores for details.
For more information on the Slate9050W, please visit: https://www.walmart.com/ip/iBUYPOWER-SLATE9050W-Gaming-Desktop-PC-Intel-Core-i5-9400F-8GB-DDR4-2666Memory-NVIDIA-GeForce-GTX-1660-Super-6GB-240GB-SSD-1TB-HDD-RGB-Windows-10-Hom/945659868
About iBUYPOWER 
Since 1999, iBUYPOWER has embodied its core beliefs of Perseverance, Unity, Strength, and Ambition, to deliver on its promise to build the best gaming systems for the most discerning gamers. Even in a time when PCs were not as ubiquitous as they are today, we fueled the passion for gaming by giving our customers the highest quality in custom built computers. Our systems have since become the backbone for professional gamers, game developers, LAN centers, major esports tournaments, collegiate esports, and everyday consumers. iBUYPOWER has worked intimately with brands such as Intel, NVIDIA, AMD, Microsoft, WD, ASUS, Bethesda, MLG and many more. Superior performance, reliability, cutting edge technology and timely production make iBUYPOWER the authority in PC gaming.