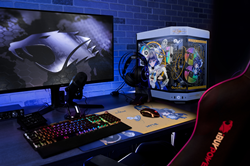 LOS ANGELES (PRWEB) February 16, 2023
iBUYPOWER, a leading manufacturer of high-performance custom gaming PCs, today announced the new RDY Ouro Kronii system featuring the special edition Y60 Ouro Kronii PC case.
"It's been an incredible journey collaborating with Kronii and hololive Engish," said King Perez de Tagle, Marketing Executive Producer of HYTE and iBUYPOWER. "It's about time The Warden of Time gets a high-performance gaming PC and the RDY Ouro Kronii limited edition systems are ready to ship. Stay tuned for even more!"
The RDY Ouro Kronii will boast the latest Intel® Core™ i9 13900K or KF CPU, NVIDIA RTX 4070 Ti GPU, Z790 motherboard, and the custom Y60 Ouro Kronii PC case. The RDY Ouro Kronii will provide users with maximum performance in virtually any application with reliable components and iBUYPOWER's expert assembly.
Designed in collaboration with hololive English team, represented by the COVER Corporation from Japan, the Y60 Ouro Kronii PC case features artwork by illustrator Rosuuri depicting The Warden of Time, Ouro Kronii. The famous VTuber appears on the main tempered glass side panel of the uniquely designed HYTE Y60 holding up one of her blades while clock cogs appear to float in the background. Illustrations continue on the corner glass panel, front glass panel, and rear metal panel.
In addition, iBUYPOWER will include a free custom Ouro Kronii desk pad with every purchase of the RDY Ouro Kronii. All iBUYPOWER systems come backed by a standard three-year warranty and with Microsoft Windows pre-installed.
iBUYPOWER will be showcasing the RDY Ouro Kronii at the LVL Up Expo in Las Vegas from February 17th to the 19th, booth number 304, South Hall One, at the Las Vegas Convention Center. Furthermore, iBUYPOWER has supplied over 120 PCs to the LVL Up Expo for the iBUYPOWER PC Gaming Area which allows attendees to play their favorite games, free of charge.
Pricing and Availability
Customers interested in the RDY Ouro Kronii can sign up for notifications starting February 17, 2023. RDY Ouro Kronii is expected to be available for purchase in March 2023 for a starting MSRP of $2,799 USD.
Webpages
To learn more about the RDY Ouro Kronii system, please visit: https://hyte.co/kronii-rdy-pr
Video
To watch the official RDY Ouro Kronii video, please visit: https://youtu.be/AE5r41mdukM
Images
For additional images of the RDY Ouro Kronii system, please visit: https://ibp.gg/kronii-rdy-pr
About iBUYPOWER
Since 1999, iBUYPOWER has embodied its core beliefs of Perseverance, Unity, Strength, and Ambition, to deliver on its promise to build the best gaming systems for the most discerning gamers. Even in a time when PCs were not as ubiquitous as they are today, we fueled the passion for gaming by giving our customers the highest quality in custom built computers. Our systems have since become the backbone for professional gamers, game developers, LAN centers, major esports tournaments, collegiate esports, and everyday consumers. iBUYPOWER has worked intimately with brands such as Intel, NVIDIA, AMD, Microsoft, WD, ASUS, Bethesda, MLG and many more. Superior performance, reliability, cutting edge technology and timely production make iBUYPOWER the authority in PC gaming.