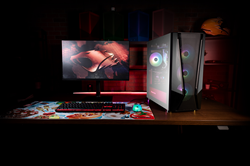 LAS VEGAS (PRWEB) January 05, 2023
iBUYPOWER (iBP), a leading manufacturer of high-performance custom gaming PCs, today, announced the latest offering in its Trace series of cases, the Trace 7 Mesh and Trace 7 Mesh Pro.
A new generation of iBUYPOWER in-house cases
The latest installation of iBP's Signature Trace series of cases, the new Trace 7 Mesh and Trace 7 Mesh Pro feature a metal mesh down the center of the front panel flanked by two mirrored tempered glass segments. With three included addressable RGB (ARGB) 120mm fans installed behind the front panel and one fan in the rear for exhaust, the addition of the mesh feature on the Trace 7 Mesh will ensure systems run at ideal temperatures. The Trace 7 Mesh Pro will come with upgraded fans with PWM control and HYTE Nexus software to manage lighting and provide an even more spectacular display.
"We are excited to introduce the next generation of our signature series of cases during CES 2023," said Darren Su, Executive Vice President of iBUYPOWER. "iBUYPOWER is committed to continuing to improve overall system performance as well as adapting to the everchanging industry component standards."
iBP systems built in the Trace 7 Mesh can be configured with up to a 360mm All-in-One (AIO) liquid cooler in the front and up to a 360mm AIO on the top. For customers looking for added connectivity, the Trace 7 Mesh Pro features the addition of a USB Type-C port as well as the standard two USB Type-A ports, one headphone jack, and one microphone jack available on the Trace 7 Mesh.
In addition, iBP will make the front panel of the Trace 7 Mesh available for purchase from its gear store for customers with iBP's 5th generation of signature cases including, Trace 5, Slate 5, Slate Hako, and Slate Mono.
New included peripherals
Included with the purchase of every new Pro version of generation 7 iBP systems will be the new Chimera KM7 combo featuring the Chimera K7 RGB membrane keyboard with 24 lighting zones and Chimera M7 gaming mouse with six lighting zones. Users can customize the RGB features of the Chimera KM7 via HYTE Nexus software and can synchronize the PWM ARGB fans included with the Trace 7 Pro cases.
Trace 7 Mesh, Trace 7 Mesh Pro, and Chimera KM7 combo will be on display during CES 2023 at the iBUYPOWER and HYTE exhibit located in Titian 2306 at the Venetian.
Pricing & Availability
Systems featuring the Trace 7 Mesh and Trace 7 Mesh Pro are expected to be available for purchase form iBUYPOWER.com and other select retailers in Q1 of 2023. Pricing to be available at a later date.
Webpages
To learn more about the Trace 7 Mesh and Trace 7 Mesh Pro, please visit: https://ibp.gg/trace-7-PR
Images
For additional Trace 7 Mesh and Trace 7 Mesh Pro images, please visit: https://ibp.gg/trace-7-PR-images
About iBUYPOWER
Since 1999, iBUYPOWER has embodied its core beliefs of Perseverance, Unity, Strength, and Ambition, to deliver on its promise to build the best gaming systems for the most discerning gamers. Even in a time when PCs were not as ubiquitous as they are today, we fueled the passion for gaming by giving our customers the highest quality in custom built computers. Our systems have since become the backbone for professional gamers, game developers, LAN centers, major esports tournaments, collegiate esports, and everyday consumers. iBUYPOWER has worked intimately with brands such as Intel, NVIDIA, AMD, Microsoft, WD, ASUS, Bethesda, MLG and many more. Superior performance, reliability, cutting edge technology and timely production make iBUYPOWER the authority in PC gaming.