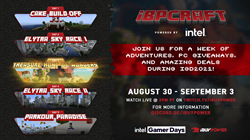 LOS ANGELES (PRWEB) August 25, 2021
iBUYPOWER, a leading manufacturer of high-performance custom gaming PCs, today announced its weeklong stream schedule, in celebration of Intel® Gamer Days, with two PC giveaways, special guests, product launches, and new deals announced every day. iBUYPOWER will kick off its stream on August 30th within iBPCRAFT, its custom designed Minecraft™ server, created in partnership with Intel, and conclude on September 3rd. Streams will take place every day between the hours of 2:00 – 4:00PM PST.
Day 1: Cake Build Off
Participants can join iBUYPOWER and fellow iBPCRAFTers on Memory Lane to commemorate Intel's 53rd Anniversary and compete to construct the best celebratory birthday cake. The top three cakes will be encapsulated forever within Memory Lane and first, second, and third place prizes awarded to the designers.
Day 2: Elytra Race - Rocket Lake Raceway
Join special guest, professional race car driver Kaylee Bryson, streaming directly from the Toyota Performance Center in North Carolina, powered by iBUYPOWER and Intel, for an elytra race around Rocket Lake Raceway. Participants will get to race against Bryson for a chance to win prizes, see the performance center from her eyes, and hear about her experience racing for Team Toyota.
Day 3: Treasure Hunt - Chimera of Wonders
Join iBUYPOWER on one of the most exciting streams of the week for the unveiling of its new sub-brand, product launch, chance to win an iBUYPOWER PC, special guest Meraki Studios, and more.
Participants in the treasure hunt will converge outside The Chimera of Wonders for the opportunity to win iBUYPOWER's latest RDY Gaming PC. Streamers will get a chance to rush into the cave and open three chests of their choosing. Participants will need to be streaming to their own channel with a provided iBUYPOWER overlay to qualify to win. Full terms and conditions are available on iBUYPOWER's website.
Day 4: Elytra Race II
On the second day of Elytra Races around Rocket Lake Raceway, iBUYPOWER will be joined by Hyper Potions duo, Ian Tsuchiura and Kevin Villecco. While racing in the sky, learn about where they started, current projects, and how their music was featured in Rocket League®, Cartoon Network™, and Sonic the Hedgehog Movie (2020).
Day 5: Parkour Paradise!
On iBUYPOWER's final stream day, participants can enter iBPCRAFT to take place in a Parkour tournament for a chance to jump their way to the winner's circle. Prizes will be awarded to those that jump the furthest without falling. At the end of the stream iBUYPOWER will announce the final opportunity to win an iBUYPOWER gaming PC.
Webpages
For a full steam schedule and more information on iBUYPOWER's Intel Gamer Days, please visit: https://ibp.gg/igd21prw
To join the fun, check out iBUYPOWER'S YouTube and Twitch Channel at:
https://www.youtube.com/user/ibuypower
https://www.twitch.tv/ibuypower
About iBUYPOWER
Since 1999, iBUYPOWER has embodied its core beliefs of Perseverance, Unity, Strength, and Ambition, to deliver on its promise to build the best gaming systems for the most discerning gamers. Even in a time when PCs were not as ubiquitous as they are today, we fueled the passion for gaming by giving our customers the highest quality in custom built computers. Our systems have since become the backbone for professional gamers, game developers, LAN centers, major esports tournaments, collegiate esports, and everyday consumers. iBUYPOWER has worked intimately with brands such as Intel, NVIDIA, AMD, Microsoft, WD, ASUS, Bethesda, MLG and many more. Superior performance, reliability, cutting edge technology and timely production make iBUYPOWER the authority in PC gaming.