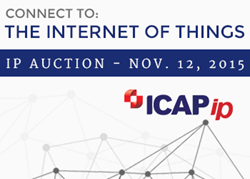 This is a rapid, flexible scanning technology designed for cameras already present on billions of mobile devices worldwide.
NEW YORK, NY (PRWEB) October 16, 2015
ICAP Patent Brokerage announces for sale patents disclosing an advanced barcode recognition technology, available from Jiazheng Shi and Jigang Jin. This portfolio is offered as part of the Internet of Things IP Auction, with a bidding deadline of November 12th, 2015.
The incorporation of cameras within wearables and mobile devices is standard, creating a culture of 'self-scanners' – users who independently perform price comparisons while retail shopping, but also a large number of inventory tracking and point-of-sale systems offering competitive pricing by forgoing proprietary hardware in favor of mobile scanning.
Current barcode scanning methodologies are slow and ineffective on uneven surfaces, such as bottles or crumpled bags, requiring users hold their phones stable for long periods of time to ensure accuracy. By contrast, the portfolio for sale discloses an improved method of barcode scanning using the type of general cameras found on mobile devices. The method uses a set of compact point spread functions (PSF) to easily resolve and decode barcode information - even blurred or corrupted images. It exploits the minor shaking of the camera to improve the accuracy of the barcode result.
"This is a rapid, flexible scanning technology designed for cameras already present on billions of mobile devices worldwide," said Dean Becker, CEO of ICAP Patent Brokerage.
This portfolio provides a critical function for various mobile eCommerce applications, such as price comparison applications, gift registration applications, self-check-out applications, product tracking systems, and camera-based scanners. ECommerce businesses (e.g., Amazon.com, eBay, Alibaba.com), retailers (e.g., Macy's, JCPenney, Target), grocery stores (e.g., Safeway, etc.), and shipping companies (e.g. UPS, FedEx) can potentially benefit by incorporating this technology into their existing systems and applications. In 2014, U.S. retail eCommerce sales amounted to 298.3 billion U.S. dollars and are projected to grow to 535 billion U.S. dollars in 2019 (1). The future potential of the addressable market is huge.
(1) http://www.statista.com/statistics/183750/us-retail-e-commerce-sales-figures/
See the technical description of the real-time barcode recognition IP sales offering.
To learn more about the intellectual property available for sale in this portfolio:
Contact Michelle Tyler of ICAP Patent Brokerage at (312) 327-4438 or via email at michelle(at)icapip(dot)com.
If you have a patent portfolio for sale, visit our website to make a patent portfolio submission for an upcoming sealed bid event.
Follow us on Twitter (@ICAP_IP) and join our LinkedIn group.
About ICAP Patent Brokerage
ICAP Patent Brokerage is the world's largest intellectual property brokerage and patent auction firm, leveraging the talents of experienced patent brokers to match buyers and sellers for the sale of patents and other intellectual property assets. With multiple transaction platforms and unparalleled industry knowledge, including experience with trademarks, brands, intellectual property licensing, and UCC sales, ICAP Patent Brokerage is the global leader in the transaction of intellectual property.
Media Contact
Sarah Saites
(312) 327-4437
Sarah(at)icapip(dot)com
###