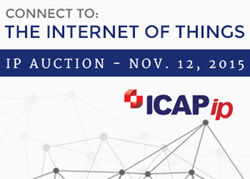 With early priority dates from 1998, this portfolio allows for beautiful, easily visible displays.
NEW YORK, NY (PRWEB) October 13, 2015
ICAP Patent Brokerage announces for sale patents providing improved lighting of gauges, watches, and similar displays, available from Luminary Logic, Inc. This portfolio is offered as part of the Internet of Things IP Auction, with a bidding deadline of November 12th, 2015.
"With early priority dates from 1998, this portfolio allows for beautiful, easily visible displays," said Dean Becker, CEO of ICAP Patent Brokerage. "It is an important portfolio for companies involved with watches, instrument display, dials, and dashboards."
Key Characteristics & Benefits
Historically, the lighting of watch faces, gauges, and similar articles was unsatisfactory, as sufficient illumination could not be provided due to a non-uniformity in brightness across the illuminated display surface. They required complicated auxiliary circuitry, and were limited to commercially available colors.
The inventions present in the portfolio for sale overcome these disadvantages by disposing a light-emitting element (LED), on or inside a light transmissive surface of the article to be illuminated. This element is positioned in the center, sides, or in a random placement and rendered light emissive or is activated by means of an electronic circuit. An optional, externally controlled illumination switch is provided on the case of the article for selective illumination. The light source is positioned on an inner surface of, or is imbedded within the cover or article itself, in such a manner that is virtually invisible to the viewer.
See the technical description of the illuminating device IP sales offering.
To learn more about the intellectual property available for sale in this portfolio:
Contact Michelle Tyler of ICAP Patent Brokerage at (312) 327-4438 or via email at michelle (at) icapip.com.
If you have a patent portfolio for sale, visit our website to make a patent portfolio submission for an upcoming sealed bid event.
Follow us on Twitter (@ICAP_IP) and join our LinkedIn group.
About ICAP Patent Brokerage
ICAP Patent Brokerage is the world's largest intellectual property brokerage and patent auction firm, leveraging the talents of experienced patent brokers to match buyers and sellers for the sale of patents and other intellectual property assets. With multiple transaction platforms and unparalleled industry knowledge, including experience with trademarks, brands, intellectual property licensing, and UCC sales, ICAP Patent Brokerage is the global leader in the transaction of intellectual property.
Media Contact
Sarah Saites
(312) 327-4437
Sarah (at) icapip.com
###