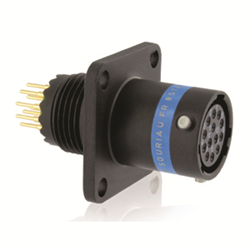 LUMBERTON, N.J. (PRWEB) September 19, 2018
Interstate Connecting Components, (ICC), a division of Heilind Mil-Aero and a leading distributor of military-aerospace connectors and accessories worldwide, is offering two-day assembly on SOURIAU's 851 Series MIL-DTL-26482H Series I PCB connectors.
Featuring one-third turn bayonet coupling, the versatile 851 Series includes insert arrangements of 2 to 61 contacts in solder, PC tail and thermocouple crimp styles. In addition, the connectors are available with nickel, black anodized and RoHS-compliant black zinc nickel plating.
One of the most prominent features of SOURIAU's 851 Series is its durability. Not only do the connectors provide a long mating cycle, but they also offer outstanding performance in extreme temperatures and corrosive atmospheres. This makes them ideal for use in fields like civil and military aviation, robotics, geophysics, instrumentation and factory automation.
Visit ICC's website for more information about SOURIAU's 851 Series MIL-DTL-26482 PCB connectors.
About Interstate Connecting Components (ICC)
A division of Heilind Electronics, North America's largest interconnect distributor, Interstate Connecting Components (http://www.connecticc.com) is an AS9100D-certified value-added distributor for the entire spectrum of electronic connectors, fiber optic connectors, backshells, tools, identification solutions and connector contacts. ICC specializes in the military-aerospace market and offers T'DA® 2-day assembly on D38999, M28840 and many other MIL-SPEC connector lines from leading manufacturers like Amphenol Aerospace, Conesys and Glenair. Follow ICC on Facebook at facebook.com/connecticc and on Twitter at twitter.com/connecticc.