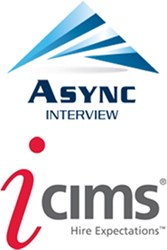 Philadelphia, PA (PRWEB) September 05, 2013
Async Interview, a leading online video interviewing platform provider today has announced a new integration with iCIMS, a leading provider of Software-as-a-Service (SaaS) talent acquisition software solutions for growing businesses. The integration will allow mutual customers of Async Interview and iCIMS to leverage both companies' solutions from a single online service connection.
"We're very excited to be working with iCIMS. Our mutual clients will find the integration further streamlines the process of recruiting, [video] interviewing and hiring candidates," said Chris Young, CEO, Async Interview. "iCIMS continues to build out their suite of solutions and we're happy to be a part of their vision."
"Async Interview offers innovative video interviewing technologies that we are looking forward to delivering to our clients," said Susan Vitale, Chief Marketing Officer, iCIMS. "Async's pre-recorded and live video interviewing solutions provide our clients the capability to take any candidate anywhere and invite them to an online video interview to help expedite the interview process," Vitale concluded.
To request an online demo, please contact Async Interview at 215.645.7132 or request a demo from our site.
About iCIMS
iCIMS, a leading provider of innovative Software-as-a-Service (SaaS) talent acquisition solutions, is an Inc. 500 and Software Satisfaction honoree focused on solving corporate business issues through the implementation of easy-to-use, scalable solutions that are backed by award-winning customer service. iCIMS' Talent Platform, the industry's premier candidate management solution, enables organizations to manage their entire talent acquisition lifecycle from sourcing, to recruiting, to onboarding all within a single web-based application. With more than 1,700 clients worldwide, iCIMS is one of the largest and fastest-growing talent acquisition system providers with offices in North America, UK, and China. To learn more about how iCIMS can help your organization, visit http://www.icims.com or view a free online demo of the iCIMS Talent Platform.
About Async Interview
Async Interview is a technology and service company meeting the needs of corporate and outsourced recruitment professionals through its video interviewing technology. Its suite of video interviewing tools are built to address a process bogged down in inefficiencies, rising costs and laborious procedures. The cloud-based, real-time system gives recruiters, HR professionals and hiring managers the ability to interview, evaluate, collaborate and hire the emerging workforce.