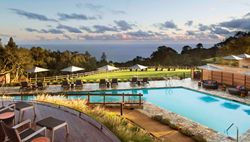 BIG SUR, Calif. (PRWEB) June 11, 2020
Ventana Big Sur, an Alila Resort overlooking California's scenic Big Sur coastline, today announced it will open July 15, 2020 with a new inclusive offer that blends luxury, simplicity, and convenience to help guests ease back into exploration. Perched on 160 forested acres along the state's most iconic stretch of Highway 1, the adults-only, 59-room resort is perfectly positioned for travelers who seek an escape close to home. Those who venture to Ventana will find secluded cottage-style suites tucked amid sprawling meadows and towering redwoods, each with a private outdoor balcony or spacious patio; al fresco dining with ocean views; outdoor pools with a personal chaise lounge reserved for every guest; amenities and activities that are both private and spiritual including hiking, yoga, meditation and Tai Chi; and new cleaning and service protocols throughout the entire guest experience.
Ventana's new inclusive approach is all-encompassing and highly customized. A dedicated Leisure Concierge will connect with each guest in advance of their stay to create a personalized itinerary, which includes the following for two guests as part of the nightly rate:

All meals, whether in-room, poolside on a reserved chaise lounge for lunch, or at The Sur House—the resort's award-winning restaurant which now features a spacious new seating plan reserved exclusively for resort guests during breakfast and dinner. (Note: Alcoholic beverages and additional upgraded experiences are available for separate purchase.)
The Ventana Big Sur picnic program, including a menu of options for casual al fresco meals.
Ventana's Signature Experiences, such as yoga and meditation surrounded by majestic hundreds-year-old trees in the Redwood Circle of Life, Tai Chi, and daily hikes.
The Excursion Outpost—the resort's new equipment library featuring complimentary items for use on picnics, outdoor adventures, and hikes through the trails, fields, and forests.
Access to private, reservation-only indoor and outdoor wellness studios.
Deliciously healthful snacks and complimentary reusable water bottles.
Customized minibar offerings.
New outdoor lounging nooks across the grounds, perfect for couples.
"Ventana Big Sur has long been an iconic haven for guests to connect with nature—a respite that is close to home, yet seemingly a world away thanks to the towering redwoods and panoramic views of the dramatic coastline," said Ventana Big Sur General Manager Anthony Duggan. "We are excited to continue this legacy, and we are reopening with a renewed sense of purpose. Guests will enjoy plenty of room to explore, discover new areas we've designed to enhance personal connection while still feeling away from it all, and marvel at experiences that offer restoration and rejuvenation without walls or limitations."
Mindful of the health and safety of guests and team members, Ventana has refined the entire guest journey with subtle yet substantive "touches" that provide anticipatory service without unnecessary contact, from check-in to room service. Already blessed with a wealth of wide-open spaces, Ventana's outdoor areas have been optimized for privacy and seclusion, fitness offerings are now available in private cabanas by appointment, and new cleaning and service protocols have been introduced in accordance with state and local authorities. Additionally, all team members have completed rigorous health and safety training, and along with all other Hyatt properties, the resort is working toward certification by the Global Biorisk Advisory Council. For information on Ventana's safety measures, visit http://www.ventanabigsur.com/health-faqs.
For couples seeking to elevate the new inclusive offer even further, a dedicated Leisure Concierge can arrange private activities for two such as falconry in the forest, private dining at the Glass House overlooking the shimmering Pacific, or a foraging hike and garden visit followed by a meal featuring guests' fresh-picked ingredients. Enhanced culinary offerings and alcoholic beverages, available for purchase separately, include award-winning cocktails and wines from the resort's 10,000-bottle cellar.
Ventana's inclusive rates begin at $1,350 per night. For more information or to make a reservation, visit http://www.ventanabigsur.com or call 800-628-6500.
# # #
About Ventana Big Sur
Ventana Big Sur, an Alila Resort, is ensconced in the heart of the Central Coast's rugged landscape on Highway 1 in Big Sur perched at the edge of the continent overlooking the dramatic Pacific coastline. Set among 160 acres of rolling meadows, wooded hillsides, towering redwood forests and ocean views, the adults-only resort provides an inclusive offer that allows guests to explore Ventana Big Sur like never before—with one simple rate, and infinite possibilities. Highlights include 59 guest rooms, suites, and villas, two outdoor pools, an outdoor Japanese hot bath and infinity hot tub, indoor and outdoor wellness studios, and The Sur House restaurant and terrace, which features awe-inspiring vistas paired with extraordinary cuisine. Signature guest activities include mind-body-soul experiences in nature, such as yoga, Tai Chi, meditation and hiking. Follow Ventana Big Sur on Facebook at facebook.com/ventanabigsur and Instagram @VentanaBigSur.