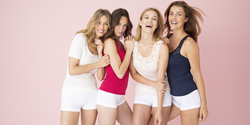 With Centric PLM we will gain in productivity while delivering an innovative, high-quality offer.
CAMPBELL, Calif. (PRWEB) November 05, 2019
Damart, the legendary French brand specializing in thermal apparel for women, men and children, has selected Centric Software's Product Lifecycle Management (PLM) solution. Centric Software provides the most innovative enterprise solutions to fashion, retail, footwear, outdoor, luxury, consumer goods and home décor companies to achieve strategic and operational digital transformation goals.
Damart has recently undergone a vast transformation of its brand including digital and international development with the aim of modernizing its offer. As a result, Damart identified the need to structure its product development process. Also set as goals are to accelerate collection development, to move from 2 to 4 collections per year and to reduce time to market.
"With 100,000 SKUs (Stock Keeping Units) annually, we need a standardized online collaborative system that can store all of our data," explains Patrick da Conceicao, Supply Chain and Transformation Manager at Damart. "Manual data entry is encroaching on time we could spend on higher value-added tasks. With Centric PLM, our employees will be able to invest more in the creation of collections, while benefiting from a better vision of the whole development cycle, which will eventually enable us to accelerate time to market."
Preference was given to Centric Fashion PLM because of its reliability, ease of use and innovation.
"Centric's out-of-the-box solution incorporates best practices from the fashion industry," says Sophie Trehout, PLM Project Leader at Damart.
Centric Fashion PLM will also improve communication between Damart teams and their suppliers.
"Ultimately, our goal is to move from two collections a year to four. With Centric PLM, all product information is in one place, which will allow our central and local teams to access reliable information in real-time and to work more efficiently with external partners. We will gain in productivity while delivering an innovative, high-quality offer," says Trehout.
The Centric PLM project will allow Damart to instill best practices to drive their new digital transformation and business strategy.
"Centric's Collection Book for iPad® app will also revolutionize the way we present our collections in-house. The product teams will be able to showcase collections through interactive catalogs and our business units will be able to build and present assortments in a graphic and user-friendly way at any time, in real time, worldwide to all local stakeholders," concludes Trehout.
"We are very pleased to welcome Damart as a new partner," says Chris Groves, President and CEO of Centric Software. "We look forward to collaborating with this iconic brand and implementing the power of our digital platform to drive growth."
Learn more about Centric Fashion PLM.
Damart (http://www.damart.com)
Born in France in 1953 with the development of Thermolactyl®, the first active heat fiber, Damart's mission is to give a smile to the over-55s by creating and distributing specific products bringing style, comfort and innovative solutions for everyday life. Damart is the historic brand of the Damartex group which today brings together 10 complementary brands in the Fashion & Ready-to-Wear sectors (Damart, Afibel, La Maison du Jersey and Xandres) and Home & Lifestyle (Sedagyl, Delaby, 3Pagen, Magic Showcase, Coopers of Stortford and Happy Days), making up a leading offering in the booming senior market.
Present in 9 countries around the world, the main markets of Damartex are France, Great Britain, Belgium, Germany and Switzerland. Omnichannel is at the heart of Damartex's strategy to adapt distribution channels to the habits and lifestyle of their customers. The Damartex group relies on the specifics of each market and sells differently according to the brand and the country, allowing its customers to discover the complete offer on catalog, to order at any time online, to buy in store or collect at a relay point.