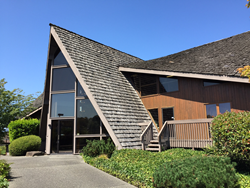 "Considering the eight or more times Dad moved head office in our first 25 years, one move in the last 50 years is a remarkable accomplishment."
SEATTLE (PRWEB) November 09, 2018
Anyone who travels to or from downtown Seattle on the I-5 freeway is likely familiar with the distinctive peaked roof of the Lindal Cedar Homes A-frame building on I-5 south, along with the historic time and temperature sign next to it. Located in the Lindal Cedar Homes Corporate Park, just off Martin Luther King Jr Way, the A-frame was completed in 1972. Since then, it has served as headquarters for Lindal Cedar Homes; the world's largest manufacturer of prefab post-and-beam kit homes.
Until now.
In February 2018, local masonry and hardscape manufacturing and supply company Mutual Materials purchased the site as a regional facility. This December, Lindal will relocate its corporate headquarters to an office park near the Starfire Sports soccer and rugby facility, at 6840 Fort Dent Way, Suite 220, Seattle, WA. The existing Lindal A-frame, along with one of the two model homes on the property, is slated for demolition. The other model home will serve as office space for the new owners.
CEO Bob Lindal is the son of the late Sir Walter Lindal, who founded the company in 1945. His daughter, Christina Lindal, is executive vice president.
The move was "really tied back to the changes we have seen in building and displaying model homes," Lindal said. When Lindal first opened its doors in the post-WWII boom years, as GIs returned from the front lines to marry, build homes, and start families, it was common for home manufacturers to build model homes in the center of cities and by the side of freeways in order to attract prospective clients.
"Over seven decades, the changes in the value of commercial freeway property, the size and cost of building a typical model home, and the difficulty in moving or selling the older models have taken their toll," Lindal said. "We can no longer justify for ourselves or our international network of independent dealers to build a model home on the side of a freeway."
Lindal said the company initially looked into remaining on site and replacing the existing models and headquarters, but decided it didn't make sense strategically. Moving forward, Lindal said that "building model homes like a typical builder – as spec homes for eventual resale – makes more sense today," while "moving to flexible office space to expand as and when needed is better for the office aspect. The head office does not need to be (and rarely is in most businesses) on the same site as the model homes, and that alone gives us more flexibility in the future."
Lindal said he doesn't expect the move to impact clients or Lindal's international network of distributors in any significant way. "Considering the eight or more times Dad moved head office in our first 25 years, one move in the last 50 years is a remarkable accomplishment," he said. "But the world changes and you must change with it or be left behind."
About Lindal Cedar Homes
Lindal Cedar Homes is the world's largest manufacturer of prefab post and beam homes made of premium Western red cedar and other quality materials. The Company specializes in custom homes built with an efficient and predictable kit of parts that can be shipped anywhere in the world.
Founded in 1945, Lindal Cedar Homes has more than 70 years of commitment to being the home building industry's leader in quality building materials, design and engineering and customer service. The Lindal tradition is carried out around the world by more than 100 employees and independent dealers in the United States, Canada, Japan, New Zealand, Australia, and many other countries.
More information about Lindal can be found on our website at http://www.Lindal.com, and you are invited to follow us on Facebook at http://www.facebook.com/LindalCedarHomesInc/.