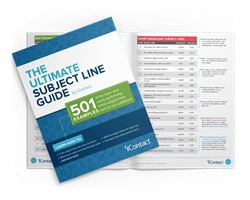 "Since reading this guide, my open rates have dramatically improved, and even if I don't have time to brainstorm for the perfect subject line, I can modify one of the guide's examples and feel confident in its performance!"— Monica R, Smashing Goods
MORRISVILLE, N.C. (PRWEB) June 12, 2018
After billions of delivered emails and 15 years in the making, iContact unveils the results of their first grand-scale email marketing data research report, The Ultimate Subject Line Guide, featuring 501 examples of the best- and worst-performing email subject lines.
iContact's email experts poured over the data, primarily from emails sent to more than 10,000 recipients from past three years, to demystify which words, characters, phrases, and punctuation drove up open rates, regardless of email list size.
This 43-page guide is free to download whether marketers use iContact or another product. But The Ultimate Subject Line Guide isn't just for marketers — it's for anyone who has, or ever will, send an email. Each page teaches business owners and nonprofit professionals how to craft better-performing subject lines. Contained within each table is the number of message recipients, as well as the real open rate achieved by that particular mass email send. (To protect sender privacy, some company and product names were changed or removed.)
When 69 percent of recipients report email as spam based solely on the subject line, crafting the perfect subject line is a "make it or break it" situation. Lauren Harold, Manager of iContact Strategic Services, one of the guide's contributing authors addressing emoji, says, "Our Premier customers are always looking for fresh subject line ideas from their Strategic Advisors — this guide answers that all-call for help."
Email message types covered in this comprehensive guide, include:

Broadcast messages (e.g. newsletters, invitations, announcements)
Welcome messages
Workflow messages
Industry-specific messages
Holiday-themed messages
Opt-in messages
Autoresponders
Email Service Providers (ESPs) talking about subject lines is nothing new, so what makes this guide special? Seeing is believing when comparing your subject lines to examples of what others have sent in your industry. But viewing the top- and worst- performers in different sectors can offer new perspective. What can a B2C subject line teach nonprofits and vice versa? iContact claims: a lot.
Got a great subject line? Tweet it to @iContact.
About iContact
Since 2003, small and medium businesses worldwide have achieved significant results by turning to iContact's best-in-class digital marketing solutions and knowledgeable team members. Made scalable to serve the needs of high-volume senders, modern marketers, and businesses new to email, iContact's easy-to-use technology, available in both English and Spanish versions, ensures that every customer has what they need – whenever they need it – to succeed. Located in Morrisville, N.C., iContact is an award-winning company in the Cision family of brands, receiving recognition from TopTenReviews, Salesforce AppExchange and G2 Crowd. Visit them online at http://www.icontact.com.