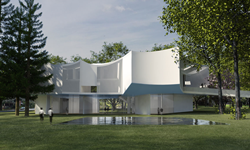 LANCASTER, Pa. (PRWEB) May 14, 2019
Following successful completion of the initial grind on the lower level of the new Sarah and Benjamin Winters Visionary Arts Building, Industrial Caulk & Seal is slated to begin extensive architectural grinding and polishing on the upper floors in the innovative new building on the historic Franklin and Marshall campus.
The Sarah and Benjamin Winters Visionary Arts building replaces the Herman Arts Center and epitomizes the latest and greatest in advanced architectural design at F & M. The building boasts a unique silhouette, and the main body of the structure is raised and framed in glass to offer views both under and through to Bachman Park and the surrounding Arts Quad.
Franklin and Marshall has made a commitment to LEED green building design and sustainability, and the new Visionary Arts building is no exception. The commitment to LEED Silver status led the architect to include polished concrete as the floor finish of choice. Through extensive sampling the general contractor, Poole Anderson, selected Industrial Caulk and Seal as the subcontractor to handle the demands associated with this high-profile project.
As an award-winning concrete polishing contractor, Industrial Caulk and Seal is often the contractor of choice for demanding and unique structures throughout the Mid-Atlantic and North East. Upon completion, the Sarah and Benjamin Winters Visionary Arts Building will be the latest addition to the extensive resume for ICS that features the finest architecture of today's day and age.
About Industrial Caulk & Seal: ICS is a nationally recognized commercial contractor serving the Mid-Atlantic and North East. Founded in 2001, ICS has worked aggressively to set the industry standard in commercial concrete polishing, commercial caulking and semi-rigid joint fillers, commercial flooring and coatings, and comprehensive floor repair and restoration. Please visit http://www.industrialcaulkandseal.com for additional information.