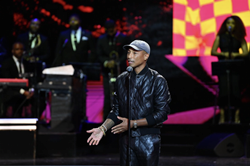 SILVER SPRING, Md. (PRWEB) January 21, 2023
Under the theme, celebrating "Icons of the Culture," the 5th annual Urban One Honors, premiered last night on TV One and CLEO TV. Hosted by R&B singer and actor Tank, the televised event heralds the accomplishments of individuals who have made extraordinary contributions in entertainment, media, music, politics, education, and the community. GRAMMY Award winning singer and actress LeToya Luckett hosted a special backstage pass segment.
Encore presentations of the 5th Urban One Honors will air Sunday, January 22 at 10AM/9C and 6PM/5C on TV One and CLEO TV.
5th annual Honorees included: Entertainment Icon Honor, 2x GRAMMY and NAACP Image Award winner, LL Cool J, the first ever Phoenix Honor to award-winning entertainer, philanthropist, and entrepreneur Bobby Brown, Inspirational Impact Honor, NAACP Image Award winner David Mann and his wife, GRAMMY Award winner, Tamela Mann (TV One's "The Manns"), Lifetime Achievement Honor recipient Congresswoman Maxine Waters, and the Music Innovation Honor to 13x GRAMMY Award-winning Artist/Producer/Songwriter Pharrell Williams. The ceremony included performances by Keke Wyatt, Marvin Sapp, a celebration of the 50th anniversary of Hip Hop with DJ Spinderella, Monie Love and Doug E. Fresh, and a finale performance from T.I. and son Domani Harris. Michelle Rice (TV One/CLEO TV President), Roland Martin, Pusha T, Keisha Lance Bottoms, Rev. Run and Lamman Rucker also appeared on the broadcast.
URBAN ONE HONORS is Executive Produced by Eric Tomosunas and James Seppelfrick of Swirl Films. Daniel Moore serves as the Musical Director. Marilyn Gill serves as Executive Producer. Kashon Powell is the Vice President of Programming for Radio One and Susan Henry is the Executive Producer in Charge of Production for TV One.
For more information on the Urban One Honors visit TVOne.tv.
ABOUT TV ONE NETWORKS
TV One Networks is the hub of black culture and entertainment with a broad offering of original programming and classic series, serving both diverse audiences for TV One and CLEO TV. Launched in January 2004, TV One currently serves 47 million households and CLEO TV, launched in January 2019, is the sister network with a 42 million household reach. Each network has a unique audience that serves viewers with fan favorites from TV One such as Unsung, Uncensored, Fatal Attraction, Payback, Tough Love: Atlanta, Never Would Have Made It: The Marvin Sapp Story and Urban One Honors. While, CLEO TV, a lifestyle and entertainment network targeting Millennial and Gen X women of color, delivers content that uplifts and inspires today's modern-day woman. Viewers of CLEO TV can expect award-winning content in both original and acquired series including Boss Girl's Guide, Culture Kitchen, New Soul Kitchen, Just Eats with Chef JJ, Global Gourmet, Living By Design, Tia Mowry's Quick Fix and All Things Adrienne House to Home. Both networks are solely owned by Urban One, Inc., formerly known as Radio One, Inc. [NASDAQ: UONE and UONEK, http://www.urban1.com , the largest African-American owned and operated multi-media company.
ABOUT SWIRL FILMS
Swirl Films is America's "number one urban film production company," a full-service film & television production company with over 60 original productions in the past six years, focusing on urban content and programming, independent features and multi-camera productions. Swirl Films is a major content provider for TV One including the original productions: Love Under New Management: The Miki Howard Story (2016), which was TV One's first ever biopic, starring LisaRaye McCoy, Vanessa Bell Calloway, Darius McCrary, Indirah Khan and Teyonah Parris as Howard. According to the network, the film broke record ratings, undeniably becoming the top original film in the network's history drawing in 2 million views, resulting in the networks highest ratings week ever. Quickly surpassing those numbers is TV One's #1 original premiere of all time, When Love Kills: The Falicia Blakely Story (2017), starring Lance Gross, Niatia Kirkland and Tami Roman, directed by actress Tasha Smith. Swirl Films previous production credits for TV One include Born Again Virgin, starring Danielle Nicolet, Meagan Holder and Eva Marcille; Here We Go Again, starring LeToya Luckett, Wendy Raquel Robinson and Kyndall Ferguson; Russ Parr's award-winning film, The Under Shepherd, Hear No Evil and 35 & Ticking (Kevin Hart).