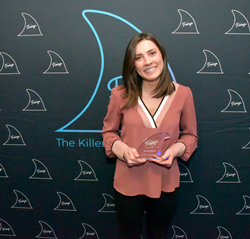 "K-12 Schools and school ID identification are an important business segment. We appreciate Demand Gen's recognition as we bring innovative solutions to meet this valued segment's unique needs."
ST. LOUIS PARK, Minn. (PRWEB) April 29, 2020
ID Wholesaler, a subsidiary of Plasco ID and the Barcodes Group, was recently named a winner of Demand Gen Report's Killer Content Awards. ID Wholesaler received a "Finny" award, winning within the Measurable ROI category at Demand Gen Report's annual B2B Marketing Exchange event. These awards recognize business-to-business operations that are engaging with their audiences creatively and authentically while also reaching key performance indicators of a successful marketing campaign.
As a major supplier of photo identification solutions to K-12 schools, ID Wholesaler's "back-to-school season" starts early and peaks in the summer months before school begins. Their winning campaign utilized multi-touch engagement with a message created to address a specific customer need. End-user interviews conducted by ID Wholesaler before the campaign revealed the importance of increasing school security through timely visual identification of students at the beginning of the year. In response, ID Wholesaler created whitepapers on how to choose the right printer for specific badge requirements, video tutorials for designing school ID cards, a custom lanyard kit to sample, and case studies. This content was delivered through multiple channels including weekly personalized emails, sales rep outreach, content syndication, social media outreach, and direct mail.
The campaign resulted in 11.9% year-over-year revenue growth in the Education segment and had an ROI of 526%, which led to the nomination and winning of the Finny for Measurable ROI. Jeff Bill, SVP and GM of Barcodes ID Business Unit, said, "K-12 Schools and school ID identification are an important business segment. We appreciate Demand Gen's recognition of our marketing excellence as we bring innovative solutions to meet this valued segment's unique needs."
ID Wholesaler provides identification security solutions to more than 100,000 organizations and has built a reputation as a trusted online retailer. Their team of knowledgeable industry experts is committed to exceeding customer expectations. ID Wholesaler offers an easy-to-use website, unmatched product selection and pricing, dedicated Account Managers, and the industry's largest certified Technical Support team.